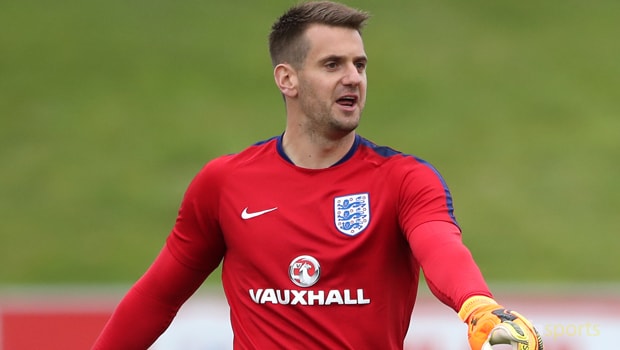 Kiper Burnleyr Tom Heaton mengatakan ia masih menaruh harapan masuk ke skuad Inggris untuk Piala Dunia 2018, meskipun masih belum dilirik untuk skuad menghadapi Belanda dan Italia dalam laga persahabatan bulan ini.
Heaton, yang tiba di Turf Moor di tahun 2013, sudah menjadi kapten tim nya sejak 2015, mendapatkan cedera bahu saat memenangkan pertandingan melawan Crystal Palace di September dan belum bermain lagi semenjak itu.
Kiper berusia 31 tahun itu terus berlath keras selama masa pemulihan nya, dan sekarang setelah hampir 6 bulan duduk di tepi lapangan, ia sudah dekat dengan comeback nya sebelum musim berakhir.
Namun ia juga menghadapi tantangan berat mendapatkan kembali tepat nya di garis gawang The Clarets, karena Nick Pope juga tampil impresif selama menggantikan nya.
Panjaga gawang 25 tahun itu berhasil mengemban beban yang ditinggal kapten nya dan menunjukan performa konsisten dan dihadiahi tempat di skuad Inggris untuk 2 pertandingan persahabatan mendatang.
Jack Butland, Jordan Pickford dan Joe Hart juga termasuk dalam skuad tersebut dan persaingan posisi penjaga gawang sekarang menjadi berat dalam persiapan tim menuju Rusia musim panas nanti.
Bagaimanapun juga, Heaton, yang menjadi pilihan kelima dalam daftar penjaga gawang timnas Inggris, tidak kehilangan harapan mendapatkan tempat di skuad nya Gareth Southgate.
"Kembali fit adalah target pertama, kemudian mencoba kembali ke tim adalah langkah berikutnya," ia katakana kepada Lancashire Telegraph.
"Dibalik itu semua, saya masih menyimpan ambisi untuk ikut terbang ke Piala Dunia, dan masih ada peluang untuk itu. "Saya bekerja keras tiap hari nya dengan ambisi itu di benak saya."
Burnley akan kembali berlaga 31 Maret saat mereka bertandang ke Rck Bottom untuk menghadapi West Brom. Bursa taruhan menempatkan odds 2.88 bagi tim tamu untuk menang, 3.20 untuk kedua tim berimbang, dan 2.60 untuk The Baggies menjungkalkan tamu nya.
Leave a comment