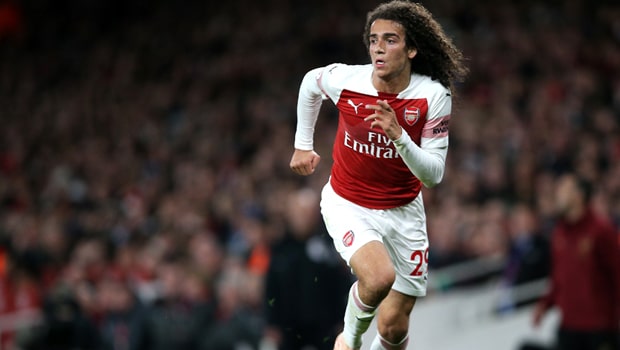 Pemain tengah Matteo Guendouzi mengatakan dia senang dengan penampilan tim nya di musim ini dan berharap terus membantu club untuk memenangkan piala.
Guendouzi adalah salah satu dari lima pemain baru di Emirates musim panas ini dan dia telah menjadi sosok yang menonjol di tim utama di bawah asuhan manager Unai Emery, dengan pemain Prancis ini telah membukukan 9 penampilan di Liga Inggris.
Setelah awal percobaan di musim ini yang mana menghasilkan kekalahan berulang melawan Manchester City dan Chelsea, Arsenal telah memulai 16 pertandingan tidak terkalahkan di semua kompetisi.
The Gunners siap untuk memasui fase gugur dia Europa League dengan dua pertandingan tersisa dan juga saat ini duduk di urutan kelima di papan atas Liga Inggris, delapan poin di belakang juara bertahan dan pemuncak klasemen City.
Pemain Timnas Prancis U-21 Guendouzi bahagia dengan pengaruh yang telah dia berikan sebagai pemain baru dan telah memberikan pemnampilan yang baik beserta kebersamaan dalam skuad.
"Saya sangat senang dengan awal penampilan saya," Imbuhnya.
"After that, the most important thing for me is the team, we're on a good run of 15 or 16 games without a loss, which is something we need to continue on.
"Setelah itu, hal paling penting untuk saya adalah untuk tim, kita sedang dalam kiprah yang baik dari 15 atau 16 pertandingan tanpa kekalahan, yang mana merupakan sesuatu yang haris kita lanjutkan.
"Kami bermain imbang di tiga pertandingan Liga terakhir, tetapi kami merupakan tim yang solid, dan saya berharap kami dapat melakukan hal-hal yang baik. Benar-benar ada kebersamaan yang baik dalam grup ini, dia itulah mengapa kami telah membuat awal yang baik di awal musim ini.
"Ini benar-benar semua bersama. Tidak ada kelompok khusus, dan itu terlihat di lapangan.
Arsenal kembali beraksi pada hari Minggu dimana mereka berangkat ke Bournemouth dan tim tamu diunggulkan dengan odds 2.05 untuk kembali dari Vitality Stadium dengan tiga poin, dimana hasil imbang dan kemenangan untuk tuan rumah keduanya diberikan odds 3.60.
Leave a comment