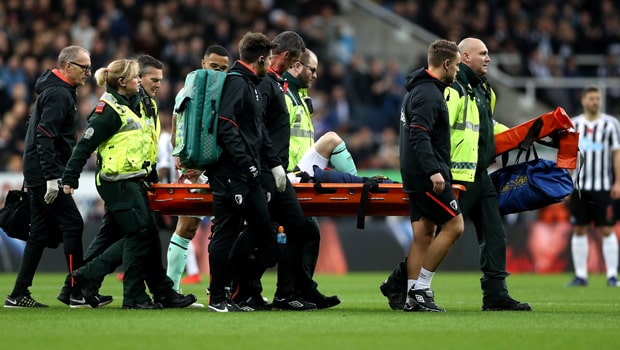 Bournemouth telah dihantam oleh berita full-back yang selalu hadir Adam Smith yang akan menjalankan tiga bulan di luar lapangan setelah operasi pada cedera lutut.
Pemain berusia 27 tahun itu mengalami masalah di lutut kanannya ketika ia berpura-pura mengambil tendangan bebas saat kekalahan 2-1 di Newcastle United sebelum jeda internasional pada 10 November.
Awalnya ditakutkan bahwa Smith bisa keluar dengan cedera hingga akhir musim, tetapi scan mengungkapkan tulang rawan yang robek dan dia telah menjalani operasi untuk memperbaiki kerusakan.
Sebuah pernyataan klub pada hari Senin berbunyi: "Bek Bournemouth Adam Smith akan absen hingga tiga bulan karena cedera lutut yang diderita awal bulan ini. "
Bek sayap itu ditandu di pertengahan babak pertama ketika Cherries kalah di Liga Primer Inggris di Newcastle United.
"Namun, setelah pemeriksaan medis yang ekstensif, cedera Smith tidak seburuk yang dikhawatirkan sebelumnya, dan pada hari Sabtu, pria berusia 27 tahun itu menjalani prosedur untuk memperbaiki robekan tulang rawan di lutut kanannya."
Akibatnya Smith akan absen hingga sekitar pertengahan Februari sehingga akan kehilangan sejumlah pertandingan kunci untuk Bournemouth, termasuk perempat final Carabao Cup di Chelsea pada 19 Desember dan jadwal pertandingan Natal mereka yang sibuk ketika mereka menghadapi empat pertandingan dalam 10 hari.
Berita itu akan menjadi pukulan bagi bos Eddie Howe sebagaimana Smith telah bermain di semua 12 pertandingan Liga Premier hingga saat ini, membantu Bournemouth naik ke posisi keenam dengan 20 poin.
Pertandingan pertama The Cherries tanpa Smith ketika melawan Arsenal di Stadion Vitalitas pada hari Minggu, untuk mereka menang odds 3.60, sementara The Gunners adalah odds 2.00 untuk mengambil tiga poin dan hasil imbang adalah odds 3.60.
Leave a comment