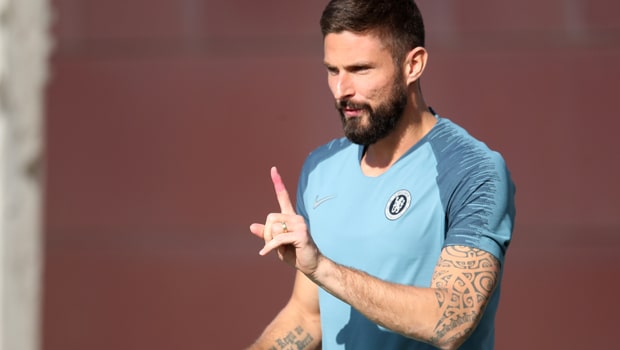 Olivier Giroud mengatakan dia tidak sedang mencari jalan untuk beranjak dari Chelsea pada saat ini dan akan melakukan apapun untuk dapat kembali menjadi pemain inti di skuad Maurizio Sarri.
Giroud diberikan kepercayaan dibandingkan Alvaro Morata di awal musim tetapi, setelah gagal membukukan catatan gol di Sembilan pertandingan, dia diturunkan menjadi pemain cadangan dalam beberapa minggu terakhir.
Untuk membuat keadaan lebih buruk bagi pemain Prancis ini, Pemain Spanyol Morata telah memanfaatkan sebagian besar kesempatannya, dengan dua gol dalam kemenangan 3-1 melawan Crystal Palace pada awal November yang sorotan hingga saat ini.
Beberapa laporan telah mengklaim Giroud, yang hanya pindah ke Stamford Bridge dari Arsenal pada Januari, sedang mencari jalan keluar di jendela mendatang, dengan pinjaman ke Marseille yang sudah dibicarakan.
However the 32-year-old, who helped Les Bleus win the 2018 World Cup in Russia, is in no mood to back down from a challenge and insists he will fight for his Chelsea future.
Bagaimanapun pemain 32 tahun ini, yang telah membantu Les Blues memenangkan Piala Dunia 2018 di Russia, tidak sedang ingin menyerah dan bersikeras dia ingin berjuang untuk masa depannya di Chelsea.
Berbicara di Telefoot, dia mengatakan : " Saya ditanyakan pertanyaan-pertanyaan yang sama sebelum Piala Dunia.
Saya akan berusaha dan untuk saat ini bukanlah perihal mencari jalan untuk keluar. Saya akan tetap tinggal di sana- dan tidak berharap untuk menyerah.
Chelsea kembali beraksi pada hari Sabtu dengan bentrokan yang rumit melawan Tottenham Hotspur di Wembley dan Giroud berharap mendapatkan kesempatan dari juru taktik Itali Sarri.
The Blues lebih dekat untuk difavoritkan merampas kemenangan dengan odds 2.50, Imbang dengan odds 3.40, dan Spurs yang saat ini hanya 1 poin tertinggal dari sang lawan dihargai odds 2.80.
Leave a comment