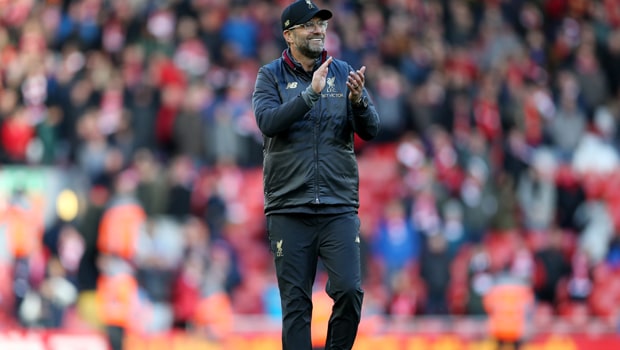 Boss Liverpool Jurgen Klopp yakin tim nya memiliki kemampuan lebih dari sekedar start terbaik pada Liga utama Inggris.
Setelah jeda internasional 2018, Liverpool harus fokus menghadapi jadwal musim dingin.
The Reds ada di peringkat ke 2 klasemen sementara setelah 12 pertandingan dan hanya tertinggal 2 poin dari juara bertahan Mancheseter City.
Liverpool sudah tidak pernah mendapatkan piala sejak tahun 2012, dan Klopp berada pada tekanan untuk memberikan lebih dari sekedar peringkat 2 musim ini, terlebih lagi setelah belanja besar-besaran dalam 18 bulan terakhir.
Orang Jerman tersebut bersikeras tim nya telah membuat perubahan besar sejak musim lalu, tetapi mereka perlu lebih berkembang ke depannya apabila mereka ingin melengserkan Manchester City.
Katanya kepada reporter pada gala dinner : "Kami bisa berkembang… kami harus dan akan berkembang. Akan tetapi antara permainan terbaik kami, kami harus memenangankan pertandingan. Itulah yang semestinya terjadi dan itu yang sedang kami lakukan."
"Tidak ada alasan untuk mengkritik para pemain, mereka telah melakukan pekerjaan yang sangat baik. Banyak hal yang sudah lebih baik dari tahun kemarin : pertahanan sudah lebih baik, bola-bola mati sudah lebih baik, kami sudah lebih dewasa dalam setiap pertandingan, penguasaan permainan sudah lebih baik. Banyak sekali hal yang sudah lebih baik."
Liverpool akan beraksi pada hari sabtu, dengan berkunjung ke markas Watford di London.
The Hornets dihargai dengan odds 6.00 untuk menang, sementara Liverpool diunggulkan dengan odds 1.53 untuk mendapatkan tiga poin. Penyerang Mohamed Salah telah menemukan kembali permainan terbaiknya dalam beberapa minggu terakhir dan dihargai dengan odds 4.00 untuk mencetak gol di Vicarage Road.
Leave a comment