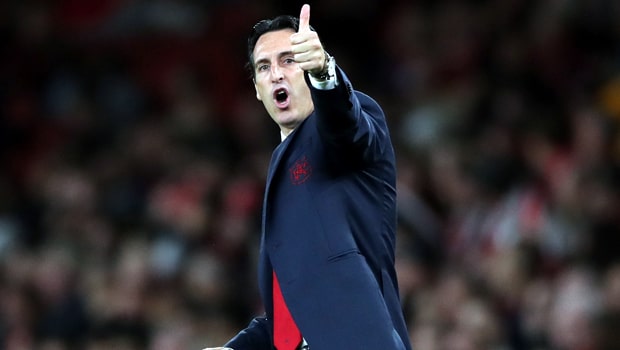 Manajer Arsenal Unai Emery bersikeras bahwa timnya telah berkembang pesat sejak dia menangani tim yang sedang terpuruk sebelum kedatangannya tersebut.
Mantan pelatih Sevilla tersebut pindah ke Emirates Stadium setelah dipecat oleh Paris Saint Germain. Emery segera direkrut oleh The Gunners setelah menjuarai treble lokal di Parc de Princes.
Wenger mengakhiri 22 tahun kekuasaannya di Arsenal pada waktu yang sama, dan Emery mengambil alih pekerjaan tersebut.
Dia telah memperbaiki kemampuan bertahan tim nya, akan tetapi mereka belum mengalahkan enam saingan teratas mereka. Arsenal sudah tidak terkalahkan dalam 16 pertandingan sejak ditangani oleh Emery dan dia mengakui bahwa pekerjaan nya masih butuh waktu.
"Sebelum Wenger datang, Arsenal merayakan kemenangan 1-0 mereka dan mengandalkan kemampuan bertahan mereka," katanya kepada Marca.
"Bersama Arsene, mereka menjadi tim yang menyerang, dengan pemain pemain yang sangat baik dalam menguasai bola, dan perpaduan yang sempurna tersebut menghasilkan The Invincibles" (saat Arsenal menjuarai liga utama Inggris 2003-04 tanpa terkalahkan).
"Seiring berjalannya waktu, mereka hanya mengandalkan teknik dan kebebasan dalam menyerang, dan melupakan pertahanan.
Apa yang ingin saya lakukan adalah menyatukan kedua aspek tersebut dan menjadi lebih kompetitif. Arsenal sedang jatuh, kita harus menghentikan hal tersebut dan mulai mengangkat mereka.
"Kami datang saat Arsenal tidak mampu mengalahkan enam tim teratas, yang mana masih seperti itu saat ini, mereka kesulitan untuk menang dalam pertandingan tandang, dan kami sudah memperbaiki hal tersebut.
"Saya mengatakan kepada para pemain 'kita mulai dari nol.' Dan saat ini, setelah empat bulan, saya berkata bahwa kami baru pada tahap permulaan."
Anak asuh Emery akan beraksi pada hari minggu, berhadapan dengan Bournemouth di Vitality Stadium dan mereka dihargai dengan odds 2.00 untuk memenangkan pertandingan. Hasil seri dihargai 3.30, sementara kemenangan the cherries dihargai dengan odds yang sama.
Leave a comment