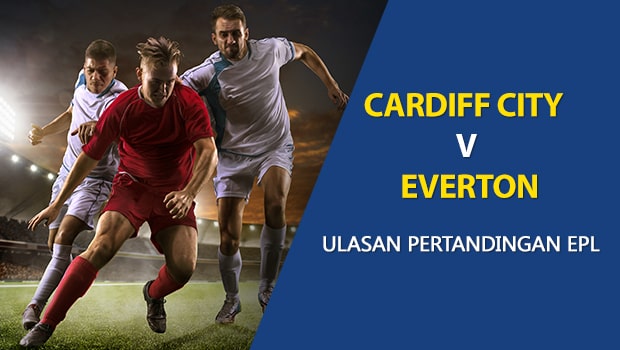 Premier League kembali akhir pecan ini dengan tim-tim yang akan beraksi pada Minggu ke 13 musim 2018-2019. Everton and Cardiff City bertemu du Goodison Park pada hari Sabtu.
Mari lihat lebih dekat pasar pada pertandingan ini.
Odds Dafabet
Team yang Menang (Waktu Normal)
• Everton FC: 1.45
• Imbang: 4.83
• Cardiff City: 7.51
Bentangan
• Everton -0.5: 1.95
• Cardiff City +0.5: 1.95
Total
• Over 2.5: 1.83
• Under 2.5: 2.07
Yang harus diperhatikan
Betting on the Draw: Odds — at 4.83 — indicate there's a 20.7 percent chance the match ends in a draw. There's a draw in about 20 percent of AccuScore sims, suggesting no added value on the draw.
Bertaruh pada hasil Imbang : Odds – 4.83—mengindikasikan ada 20.7 % kemungkinan pertandingan berakhir Imbang. Ada sekitar 20 % hasil imbang di AccuScore sims, menandakan tidak ada nilai tambahan pada hasil Imbang.
Rata-rata skor setelah 10.000 simulasi adalah 2.31-0.89, dengan yang diunggulkan adalah Everton.
Kemenangan yang langka : Cardiff City datang dengan kemenangan 2-1 di menit akhir melawan Brighton berkat gol dari Souleman Bamba. Bamba memiliki 8 sampai 9 persen kemungkinan untuk mencetak gol pada laga ini. Walaupun, secara umum Cardiff City hanya memiliki total 2 kemenangan dalam 14 laga terakhir, dengan tiga kekalahan beruntun.
Mentorship: Awal pekan ini, kapten Brasil Neymar mengatakan dia ingin membantu pemain depan Everton Richardlison, pada dasarnya bertindak sebagai mentor. Everton menandatanganinya untuk £ 40m di musim panas. Setelah awal yang bagus untuk penampilan nya bersama Everton , Richarlison baru-baru ini dipanggil ke tim nasional Brasil – mencetak dua gol dalam empat penampilan pertamanya.
Berdasarkan sim Richarlison rata-rata memiliki 3.82 tembakan, 1.19 tembakan pada sasaran dan 0.58 berujung gol.
Head-to-Head : Kedua kubu telah bertemu dalam aksi di Premier League pada 2014 lalu dimana Everton menang dengan skor 2-1, dimana setelah hasil 0-0 pada babak pertama.
Pemimpin yang diproyeksikan
Callum Paatterson mendekati angka 22% kemungkinan untuk mencetak gol bagi Cardiff City. Paterson rata-rata memiliki 1.25 tembakan secara keseluruhan, 0.46 tembakan menuju sasaran dan 0.24 berujung gol berdasarkan sim.
Gylfi Sigurðsson mendekati angka 49% kemungkinan untuk mencetak gol bagi Everton. Dia rata-rata memiliki 3.63 tembakan, 1.19 tembakan menuju sasaran, dan 0.67 berujung gol berdasarkan sim.
Pilihan Pengamat
Everton -0.5.
Odds—1.95—mengindikasikan ada 51% kemungkinan Everton memenangkan pertandingan ini. 68% kemenangan berdasarkan AccuScore sims, menandakan ada tambahan nilai pada pilihan ini. Rata-rata margin untuk kemenangan buat Everton di AccuScore sims adalah +1.45 gol.
Everton memenangkan secara keseluruhan diberikan bintang empat (dari empat) berdasarkan tren panas pilihan AccuScore.
Leave a comment