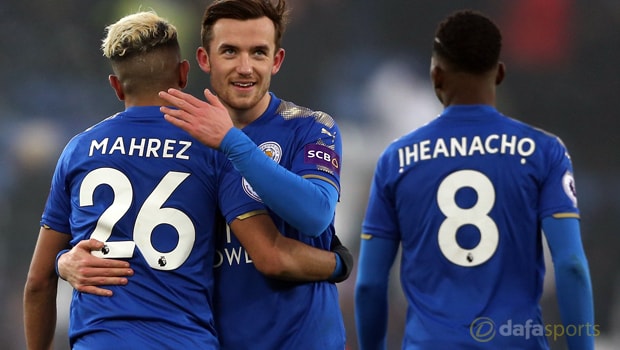 Pemain bertahan Ben Chilwell menegaskan bahwa Leicester akan terus berjuang untuk tempat di Liga Eropa hingga secara matematis tidak memungkinkan lagi.
The Foxes mencicipi kompetisi Eropa di musim 2016/17 saat mereka terkualifikasi setelah menjuarai Liga Primer Inggris di musim sebelum nya.
Leicester berhasil menembus babak perempat final sebelum dikalahkan Atletico Madrid dengan agregat 2-1, namun gagal kembali lagi ke kompetisi Eropa di musim ini setelah tertatih-tatih di kompetisi domestik.
Claude Puel telah memperbaiki musim Leicester setelah ditugaskan meneruskan tongkat kepelatihan Craig Shakespeare di bulan Oktober, dan mereka memiliki peluang kecil untuk kembali ke level Eropa musim depan.
Kekalahan 2-1 atas dari Burnley Sabtu kemarin membuat Leicester tertinggal 9 poin dibelakang the Clarest yang duduk di posisi 7, yang juga tertinggal 2 poin dari Arsenal di posisi 6, dengan hanya 5 pertandingan lagi untuk dimainkan.
Meskipun terlihat sangat tidak memungkinkan untuk mereka mendapatkan tempat di Liga Eropa, Chilwell berkeras bahwa skuad nya tidak siap untuk menyerah begitu saja.
Chilwell mengatakan: "Tentu saja ini belum berakhir. Kami tahu itu akan sangat sulit dan terlihat tidak mungkin, namun jika kami memenangkan semua sisa pertandingan, dan mereka kalah dalam pertandingan-pertandingan mereka, kami masih dapat terkualifikasi untuk Liga Eropa.
"Kami tahu itu sebuah hal yang sulit, namun kami akan pergi ke setiap pertandingan dengan Liga Eropa di pikiran kami. Itu telah dijelaskan kepada kami bahwa kami masih menginginkan nya.
"Tentu itu sulit, itu adalah sesuatu yang kami inginkan dan hal-hal yang lebih sulit telah kami lalui di beberapa tahun ke belakang, jadi ini adalah sesuatu yang kami rasa kami dapat melakukan nya."
Bursa taruhan menempatkan odds 2.38 untuk kemenangan Leicester di pertandingan berikutnya saat mereka menjamu Southampton, yang kemenangan nya memiliki odds 3.10. Sedangkan imbang memiliki odds 3.40.
Leave a comment