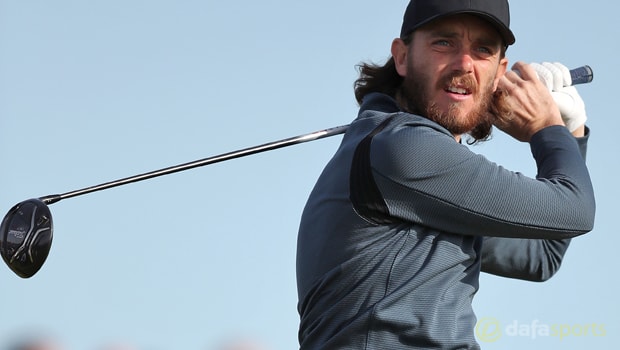 Diakui Tommy Fleetwood bahwa dia menikmati tekanan untuk mencoba menang di Race to Dubai, menjelang Turkish Airlines Open minggu ini.
Bintang golf kelahiran Southport ini menikmati musim yang menakjubkan di European Tour, dengan memenangkan Abu Dhabi Golf Championship dan Open de France, yang memantapkan statusnya sebagai salah satu pemain teratas di benuanya.
Dia juga telah memantapkan diri di ranah dunia dengan finish sebagai runner-up di WGC-Mexico dan meraih ranking empat di US Open.
Dengan tersisa tiga event di Race to Dubai, Fleetwood unggul €865.769 atas Sergio Garcia, walau uang yang ditawarkan di turnamen-turnamen yang tersisa berarti itu masih jauh dari selesai.
Beberapa pekan ini telah hebat bagi pemain berusia 26 tahun ini, yang baru-baru ini juga dikaruniai anak pertamanya.
Hasil yang kuat telah terus berdatangan dan ia yakin bahwa menghadapi tantangan dengan terus bermain golf secara agresif, akan menjadi kunci bagi peluangnya untuk menempati puncak klasemen di akhir musim.
"Ini pengalaman yang baru dan ada beberapa pemain terbaik dibawah saya," ujar Fleetwood. "Saat ini saya berada di puncak teratas.
"Saya tahu saya sudah bermain dengan bagus, dan tentunya saya sudah banyak meningkatkan permainan saya, tapi ini banyak meningkatkan kepercayaan diri saya, penampilan saya di Meksiko dan US Open.
"Hal-hal itu memang banyak mempengaruhi kepercayaan diri kita. Tinggal tiga lagi, tapi saya ingin meraih slotnya.
"Itulah yang ingin kita raih. Begitulah yang mau kita rasakan dan karena itulah kita mau bermain."
Odds Fleetwood 19,00 untuk menang di Antalya minggu ini, dan Justin Rose, yang kini ranking tiga di klasemen, diunggulkan di odds 8,00.
Leave a comment