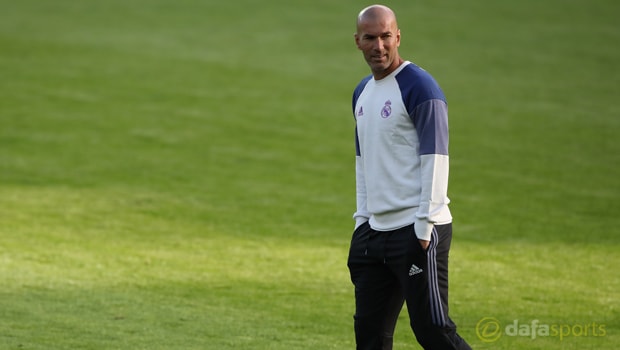 Zinedine Zidane, pelatih Real Madrid, mengaku timnya harus berkembang, jika ingin meraih gelar La Liga, sesudah seri dengan Las Palmas hari Rabu lau di Bernabeu.
Los Blancos tampak akan menang rutin setelah Isco menerjangkan gol pembuka di menit ke-8, tapi tim tandang segera mengimbangi skor, berkat Dominguez Tanausu.
Kemudian Gareth Bale diistirahatkan bagi Real, pas sesudah half-time, dan tim tuan rumah kalah 3-1 dalam 13 menit sesudah gol pesat dari Jonathan Viera dan Kevin-Prince Boateng.
Tampaknya seolah pengejar gelar Zidane akan kalah kandang – sesuatu yang jarang terjadi – sebelum para pemain Real membalas serangan dan meraih hasil seri, dengan dua gol oleh Cristiano Ronaldo pada lima menit terakhir waktu normal.
Kini Real baru berhasil meraih 4 poin saja dari 9 yang tersedia, dan jagoan Madrid ini telah digantikan oleh Barcelona di puncak klasemen.
Los Blancos memang tersisa satu laga lagi, dan tertinggal satu poin saja dari Barca, jadi mereka masih untung, tapi Zidane tahu betul hasilnya harus cepat meningkat, kalau mereka ingin meraih gelar La Liga untuk pertama kalinya sejak kampanye 2011/12.
"We can't look for excuses," said Zidane. "What we can do is improve our performance. We are not happy with how we are playing. "There are moments in the season like this.
"Kami tidak bisa mencari alasan," kata Zidane. "Yang bisa kami lakukan adalah meningkatkan penampilan kami. Kami tidak puas dengan cara bermain kami.
"Ada kalanya di musim seperti ini. Di tiga atau empat laga terakhir, semuanya tidak terjadi seperti yang kami harapkan, tapi kami tidak akan membela diri pada wasit.
"Ada hal yang kami lakukan dengan baik tahun ini, tapi kami harus menelaahnya dan kami akan mengubah beberapa hal.
"Telah kami tunjukkan kami punya karakter dan kami bisa berbuat lebih. Kami harus berkembang, terutama di pertengahan pertama penampilan.
"Kami harus memikirkan hal-hal positifnya. Kami harus mempelajari kekurangannya, tapi untuk bangkit dari 1-3 ke 3-3, itu hebat."
Real akan kembali beraksi di La Liga hari Sabtu nanti, saat mereka bertandang ke Eibar. Odds Los Blancos 1,57 untuk bangkit kembali dan menang, Eibar bisa didukung di odds 5,50, dan odds hasil seri 4,00.
Leave a comment