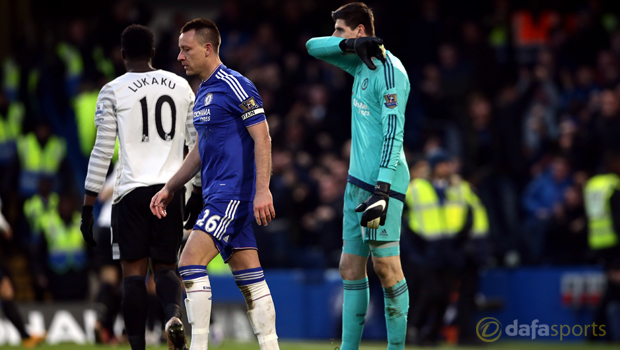 Roberto Martinez nyaris tak bisa menahan amarah setelah Everton ditolak menangan atas Chelsea pada gol John Terry di delapan menit memasuki perpanjangan waktu.
The skipper diselamatkan titik bagi timnya jauh ke menit akhir, meratakan itu pada 3-3 setelah Ramiro Funes Mori mencetak gol di menit ke-90 untuk memenangkan tampaknya hari untuk Everton.
Terry sebelumnya mencetak gol bunuh diri untuk memecahkan kebuntuan sebelum Kevin Mirallas menggandakan Everton memimpin 56 menit.
Diego Costa dan Cesc Fabregas mendapat Chelsea kembali dengan dua gol dalam dua menit setelah satu jam, sebelum penghentian waktu menyenangkan dan permainan dimulai.
Martinez merasa dirugikan dua hal. Tujuh menit tambahan waktu yang ditandai dengan pejabat dan Terry menemukan bersih 57 detik atas waktu yang diberikan.
Untuk menambahkan penghinaan untuk cedera, bek itu dalam posisi offside ketika ia mencetak gol dan bos Everton tidak senang setelahnya.
"Tingkat wasit adalah jahat," katanya kepada Sky Sports setelah pertandingan. "Semua yang Anda inginkan adalah wasit untuk melakukan pekerjaannya. Hakim garis adalah dalam posisi yang baik, itu adalah sentuhan dari Oscar dan Terry jelas, jelas offside.
"Ini adalah offside yang jelas yang seharusnya terlihat. Untuk membuatnya lebih buruk, itu 50 detik dari waktu ke waktu.
"Ini adalah sesuatu yang tidak cukup baik."
Ini adalah kedua kalinya musim ini yang Everton telah kejam membantah terlambat dalam permainan, mereka juga dipaksa puas dengan hasil imbang 3-3 di Bournemouth pada bulan November ketika tim tuan rumah mencetak gol jauh ke menit akhir.
Pandangan Martinez pada tujuan Terry, bersama dengan nomor berlawanan, Guus Hiddink.
"[Martinez] adalah benar, dia offside," kata bos Chelsea "Kadang-kadang dalam mendukung kami, aku sudah melihatnya. Oscar menyentuh bola dan John offside tapi ia membuat gol indah. "
Wajah Everton Manchester City di semi-final leg kedua Piala Satu Modal Rabu, memimpin 2-1 dari leg pertama. The Toffees yang 5,00 untuk memenangkan Piala Liga sementara City yang 2,75.
Leave a comment