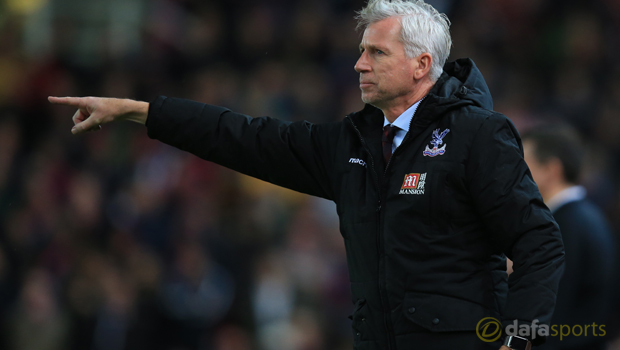 The Eagles saat ini keenam di Liga Utama Inggris setelah mengumpulkan 29 poin dari pembukaan 17 pertandingan mereka, dan mereka berada pada level poin dengan kedua tempat kelima Manchester United dan Tottenham, yang saat ini menempati posisi keempat.
Kemenangan 2-1 Sabtu di Stoke memperpanjang selatan klub London rekor tidak terkalahkan saat ini untuk empat pertandingan dan Pardew percaya prioritas utama tim adalah untuk semen top-enam finish setidaknya musim ini.
Dia mengatakan kepada wartawan: "Kami punya diri kita ke posisi keenam dan kami ingin melawan dan tinggal di sana, itu benar-benar prioritas kami Tapi untuk melawan ada berarti Anda harus mencari, dan kami melihat ke atas, dan itulah jenis. Manajer saya. "
Pria berusia 54 tahun percaya itu menyegarkan untuk melihat orang-orang seperti Palace dan liga pemimpin Leicester menantang di ujung kanan klasemen, dan dia yakin dia memiliki kualitas dalam starting XI-nya untuk bersaing dengan tim-tim terbaik di divisi.
Dia mengatakan: "Kami semua mulai khawatir tiga atau empat tahun yang lalu bahwa itu tampak seperti kesenjangan hanya akan mendapatkan lebih besar, dan ironisnya belum, dan untuk semua uang yang dibelanjakan, kita mendapatkan kualitas dari 11 pemain di lapangan yang tidak terlalu jauh dari beberapa tim papan atas. "
Palace berharap untuk melanjutkan perjalanan mengesankan yang akan mereka bentuk dalam pertandingan berikutnya melawan Bournemouth di Stadion Vitalitas, Sabtu. The Eagles ditawarkan di 2,88 untuk memenangkan pertandingan, sementara Ceri tersedia di 2,50 dan imbang dengan harga 3.30.
Leave a comment