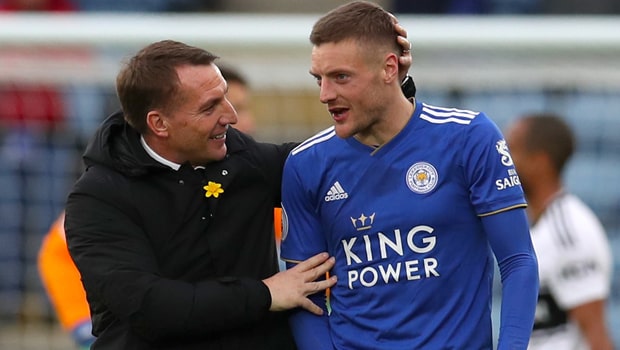 Vardy 'berkelas dunia' mengamankan kemenangan pertama Rodgers bersama the Fox
Bos Leicester City, Brendan Rodgers, menyatakan Jamie Vardy seorang striker 'kelas dunia' setelah ia menembakkan gol-gol penting dalam keberhasilan kandang 3-1 atas Fulham.
Hasil ganda Vardy memastikan Rodgers menikmati debut kemenangan di King Power Stadium, setelah kalah dalam pertandingan pertamanya sebagai bos Foxes di Watford, Minggu lalu.
Fulham yang berjuang telah mengancam untuk mengambil poin ketika pemain pengganti Floyd Ayite mencetak gol penyeimbang awal di babak kedua.
Vardy adalah arsitek yang memimpin kemenangan Leicester dan penjelajahannya yang terlambat menghasilkan satu abad gol dalam seragam Leicester untuk mantan striker Inggris itu.
Vardy tanpa mementingkan diri menyelesaikan babak pertama sederhana untuk Youri Tielemans untuk menempatkan timnya di depan. Dia berlari ke bola sempurna melalui James Maddison untuk menempatkan Leicester kembali di depan dengan 12 menit tersisa, gol ke-100 untuk Fox, kemudian menambahkan satu lagi untuk penghitungannya dengan selesai rapi empat menit dari akhir.
Sementara kecakapan mencetak golnya begitu terkenal, Rodgers merasa bahwa peran kuncinya dalam gol pembuka mungkin mengatakan lebih banyak tentang apa arti Vardy bagi Leicester sebagai sebuah tim.
Striker itu sebelumnya tidak disukai oleh mantan bos Claude Puel, yang berjuang untuk bermain untuk kekuatan Vardy, tetapi itu tidak akan menjadi kasus di bawah manajer barunya. "Tujuan pertama menunjukkan ketidakegoisan Jamie Vardy.
Dia menyodorkan bola ke Youri Tielemans ketika dia berada di ambang gol ke-100 – yang memberi tahu Anda segalanya tentang pemainnya, "kata Rodgers.
"Tiba-tiba mereka mendapat 1-1 dan itu memberi mereka sedikit momentum, tetapi pujian besar untuk anak-anak [untuk reaksi mereka].
"Dia menunjukkan selama beberapa tahun terakhir bahwa dia adalah striker kelas dunia. Aku hanya senang dia ada di sini. Dia titik fokus yang brilian untuk tim."
Leicester adalah 2,40 untuk menang tandang di Burnley akhir pekan depan. The Clarets memiliki harga 3,00 sedangkan undian di Turf Moor adalah 3,40.
Leave a comment