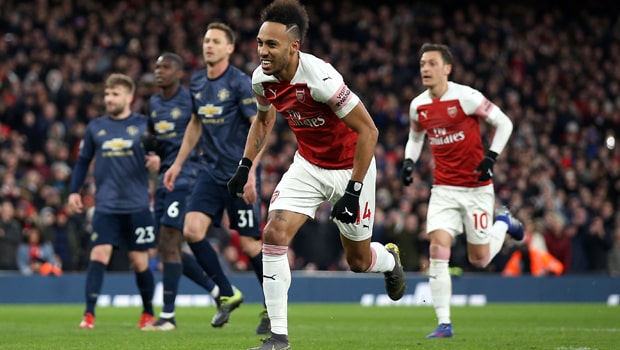 Pierre-Emerick Aubameyang merasa kerja keras di lapangan pelatihan membantunya mengatasi mimpi buruk penalti saat Arsenal mengalahkan Manchester United 2-0 di Emirates.
The Gunners melompati lawan mereka untuk pindah ke empat besar, setelah meberikan Ole Gunnar Solskjaer kekalahan Liga Premier pertamanya sebagai bos Setan Merah.
Granit Xhaka membuat tuan rumah memimpin pada menit ke-12, mengelabui David de Gea dengan tendangan melenceng, setelah Romelu Lukaku melewatkan kesempatan mencolok untuk mencetak gol bagi United.
Gelandang Brasil Fred membentur tiang untuk United sebelum Aubameyang melangkah di babak kedua untuk mencetak gol dari jarak 12 meter.
Setelah gagal melakukan tendangan penalti untuk memenangkan derby London utara melawan Tottenham akhir pekan lalu, sang striker mengungkapkan bahwa ia telah bekerja keras untuk memastikan tidak ada pengulangan.
"Saya yakin, rekan tim saya memberi saya banyak kepercayaan diri. Laca [Alexandre Lacazette] memberi saya penalti dan itu keren dari dia, saya benar-benar fokus.
Saya melakukan kesalahan terhadap Tottenham, memandang rendah pada saat terakhir, tidak mengamati [Hugo] Lloris, tapi hari ini saya menyaksikan sampai akhir – dan menjadi fokus Anda mencetak penalti, "katanya kepada Sky Sports.
The Gunners telah memenangkan tujuh dari 10 pertandingan papan atas sejak pergantian tahun, memastikan mereka hanya satu poin di belakang Spurs, yang duduk di urutan ketiga dalam tabel, dengan delapan pertandingan tersisa.
Aubameyang merasa mereka sekarang bisa mendorong dan mendapatkan finis empat besar untuk manajer Unai Emery di musim pertamanya di pucuk pimpinan.
"Kami memiliki semangat yang baik, kami lapar. Kami ingin kembali ke Liga Champions dan kami semua fokus pada itu," tambahnya.
Arsenal kini 1,83 untuk finis di empat besar, dengan Manchester United 2,30 dan Tottenham 1,62.
Leave a comment