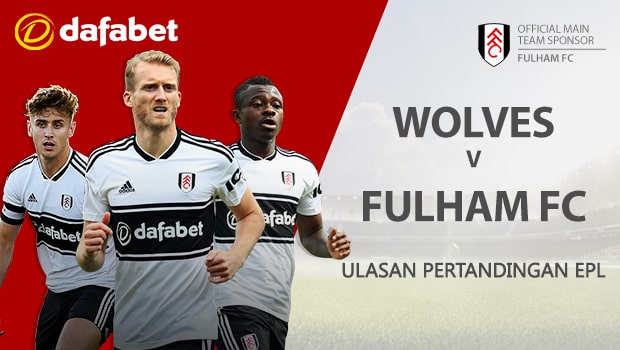 Kami memiliki sepasang tim di Wolverhampton dan Fulham yang mengungguli kemenangan beruntun pertandingan akhir pekan ini di Molineaux.
Mari kita lihat lebih dekat dimana untuk nilai yang ada di dalam pertandingan ini.
Pilihan Dafabet
Team to Win (Regular Time)
Wolverhampton: 1.56
Draw: 4.37
Fulham FC: 6.33
Spread
Wolverhampton -1: 1.95
Fulham FC +1: 1.98
Total
Over 2.5: 1.80
Under 2.5: 2.11
Yang harus Diperhatikan
Draw: Ada 23 persen peluang pertandingan berakhir seri. Ada 24 persen peluang seri di Accuscore sims, menyarankan beberapa nilai tambah dengan hasil nilai seri, akan tetapi tidak banyak.
Skor rata-rata setelah 10.000 simulasi adalah 1.91 – 0.93, lebih menguntungkan Wolverhamptom.
6 Pertadingan terakhir: Wolves memiliki 3 kemenangan, 2 kekalahan dan 1 seri dalam 6 pertandingan terakhir mereka secara keseluruhan.
Kemenangan beruntun dari Watford dan Arsenal. Fulham, dengan kemenangan 3 pertandingan beruntun, mengalami 3 kekalahan dan 3 kemenangan dalam 6 pertandingan terakhir mereka.
Beberapa Nomor: Fulham berada di Nomor 3 terakhir papan klasmen di liga musim ini. Meskipun hal ini sering menunjukkan kurangnya disiplin, ini juga menunjukkan seberapa sering suatu tim mendorong untuk mencetak gol. Bagi Fulham, ini adalah yang pertama karena mereka No. 17 di liga dalam gol yang dicetak.
Head to Head: Pertemuan pertandingan terakhir di Liga Premier pada 26 Desember 2018 ketika pertandingan selesai dengan hasil imbang 1-1.
Pemain yang Diproyeksikan
Aleksander Mitrovic memiliki peluang 36 hingga 37 persen untuk mencetak gol bagi Fulham. Dengan rata-rata 2,61 tembakan keseluruhan per sim, 0,95, tembakan ke gawang dan 0,46 gol per sim.
Untuk Wolverhampton, kita akan melihat Diogo Jota yang memiliki peluang 37,5 persen untuk mencetak gol. rata-rata 2,72 tembakan secara keseluruhan, 1,21 tembakan ke gawang per dan 0,47 gol per sim.
Pilihan Analis
Wolverhampton untuk menang.
Tidak banyak nilai pada pilihan ini, tetapi perbedaan bakat terlalu banyak untuk diabaikan. Data simulasi memang memproyeksikan pertarungan yang sedikit lebih dekat daripada pengambilan offshore picks, tetapi Wolves tetap harus menang. Ini adalah pick tren panas 2-star (dari empat).
Leave a comment