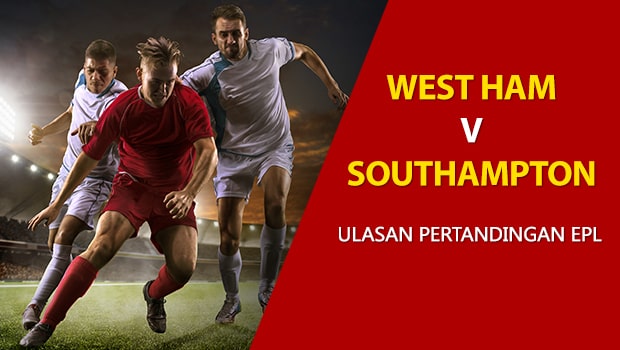 Kami punya pertarungan seru pada hari Sabtu ini di Stadion London saat West Ham dan Southampton saling berhadapan. Simulasi AccuScore memiliki pandangan berbeda pada game ini daripada kebanyakan pilihan offshore.
Mari kita lihat lebih dekat dimana untuk nilai yang ada di dalam pertandingan ini.
Pilihan Dafabet
Team to Win (Regular Time)
West Ham: 2.33
Draw: 3.70
Southampton: 3.02
Spread
West Ham -0.5: 2.02
Southampton +0.5: 1.91
Total
Over 3: 2.05
Under 3: 1.85
Yang harus Diperhatikan
Draw: Ada 27 persen peluang pertandingan berakhir seri. 27,8 persen peluang seri pada sim AccuScore, menunjukkan beberapa nilai tambah pada undian – tetapi tidak banyak.
Skor rata-rata setelah 10.000 simulasi adalah 1.51 – 0.72, lebih menguntungkan West Ham.
6 Pertadingan terakhir: West Ham, keluar dari kemenangan tandang 1-0 vs Tottenham, memiliki 2 kemenangan, 3 kekalahan dan 1 hasil imbang dalam 6 pertandingan terakhir mereka. Southampton memiliki 2 kemenangan, 2 kekalahan dan 2 hasil imbang dalam enam pertandingan terakhir mereka, 2 kali seri dalam catatan terakhir mereka.
Membangun Momentum: West Ham menuju ke pertandingan ini dengan banyak momentum setelah menempatkan kunci dalam harapan 4 besar Tottenham minggu lalu. Gol di babak kedua oleh Michail Antonio memastikan kemenangan 1-0 saat ia mencatat sejarah sebagai pencetak gol penentu pertama di stadion baru Tottenham.
Head to Head: Pertemuan pertandingan terakhir di Liga Premier pada 27 Desember 2018 ketika West Ham menang, 2-1.
Pemain yang Diproyeksikan
Pierre-Emile Højbjerg memiliki peluang 15 persen untuk mencetak gol bagi Southampton. rata-rata 1,85 tembakan keseluruhan per sim, 0,67 tembakan ke gawang per dan 0,17 gol per sim.
Marko Arnautovic memiliki peluang 37 hingga 38 persen untuk mencetak gol untuk West Ham. rata-rata 2,89 tembakan keseluruhan per sim, 1,56 tembakan ke gawang per dan 0,48 gol per sim.
Pilihan Analis
West Ham -0.5
Ada kemungkinan 49 persen West Ham memenangkan pertandingan ini dengan setidaknya selisih 1 gol. Mereka memenangkan 56 persen menurut SIM AccuScore dengan rata-rata +0,79 gol. Nilai samping tambahan pada West Ham adalah pilihan tren panas 4-star (dari empat).
Leave a comment