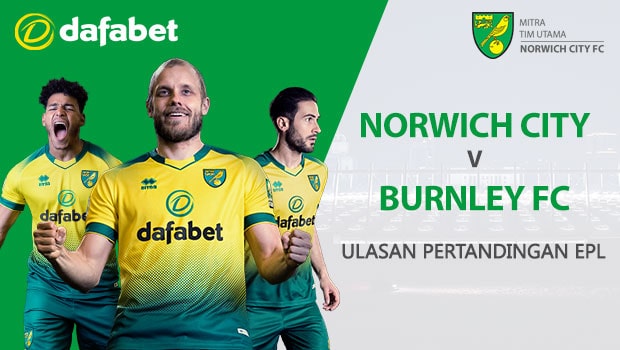 Kami memiliki nilai menarik di Turf Moor akhir pekan ini karena Burnley dan Norwich City bersiap untuk beberapa aksi Liga Premier.
Mari kita lihat lebih dekat di mana nilainya berada dalam pertarungan ini.
Pilihan Dafabet
Team to Win (Waktu Reguler)
• Burnley FC: 1.99
• Gambar: 3.84
• Kota Norwich: 3,75
Penyebaran
• Burnley FC -0.5: 2.02
• Kota Norwich +0.5: 1.91
Total
• Lebih dari 2,5: 1,70
• Di bawah 2.5: 2.25
Yang Harus Diperhatikan
Draw: Ada peluang 26 persen dari pertandingan ini berakhir dengan seri. Itu terjadi dalam 25 persen simulasi, menunjukkan tidak ada nilai tambah pada pilihan.
Skor yang diproyeksikan adalah 1,61 – 1,54, mendukung Norwich City.
5 Terakhir: Burnley memiliki 2 seri dan 3 kekalahan dalam lima keseluruhan terakhir mereka, dibandingkan dengan 2 kemenangan dan 3 kekalahan untuk Norwich City.
On a Roll: Teemu Pukki, pencetak gol terbanyak musim lalu di Kejuaraan, memenangkan penghargaan Pemain Terbaik Bulan Ini di bulan Agustus. Dalam 17 tembakan musim ini, 12 telah tepat sasaran dengan 6 menghasilkan gol. Bicara tentang efisiensi.
Head to Head: Kedua belah pihak terakhir kali bertanding pada Januari 2012 ketika Norwich City menang, 4-1, di Piala FA.
Proyek Pemimpin
Untuk Norwich City, Teemu Pukki rata-rata mencetak 3,44 tembakan per sim, 1,44 tembakan ke gawang per, dan 0,78 gol per sim. Dia memiliki peluang 54 persen untuk mencetak gol
Untuk Burnley, kita akan melihat Ashley Barnes yang rata-rata 2,76 tembakan secara keseluruhan per sim, 1,28 tembakan ke gawang per dan 0,72 gol per sim. Ia hampir memiliki peluang 51 persen untuk mencetak gol.
Pilihan Analis
Kota Norwich +0.5
Sedangkan pembuat picks memiliki Burnley FC sebagai favorit, Norwich City memenangkan pertarungan yang disimulasikan lebih daripada Burnley. Kami akan mengambil setengah poin dalam hal ini mengingat kemenangan Norwich langsung adalah pilihan tren bintang tiga (dari empat).
Pastikan untuk memeriksa semua prediksi MLB, NFL, NCAA, NHL, NBA, dan pertandingan sepak bola lainnya dari AccuScore.
Leave a comment