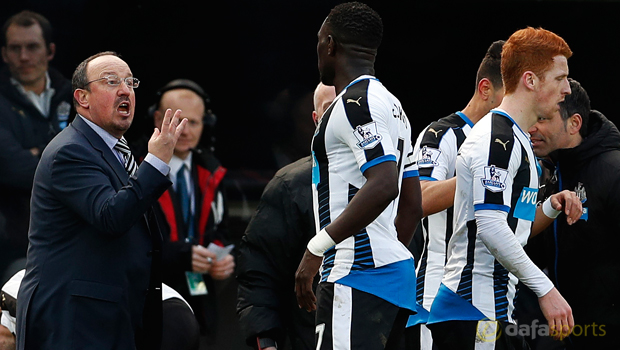 Rafael Benitez mengatakan kepada pemain Newcastle untuk mengabaikan Liga Utama Inggris dan bukannya berkonsentrasi pada mengambil pertempuran mereka melawan penurunan satu pertandingan pada satu waktu.
The Magpies, yang harga 1,25 untuk turun, meningkatkan harapan mereka untuk bertahan hidup dengan kemenangan 3-0 atas Swansea pada Sabtu dan lebih ditingkatkan peluang mereka pada Selasa malam ketika mereka berjuang untuk hasil imbang 1-1 melawan Manchester City.
Namun, menuju ke empat pertandingan terakhir mereka musim ini mereka tetap 19 dalam tabel, dua poin di belakang 17-ditempatkan Norwich dan dengan waktu yang tampaknya kehabisan.
Mereka telah, meskipun, meningkat secara signifikan dalam beberapa terakhir mereka tamasya dan Benitez tampaknya bekerja sihir setelah awal yang sulit untuk pemerintahannya setelah tiba bulan lalu.
Sabtu melihat mereka mengambil klub mantan pembalap Spanyol itu Liverpool, permainan mereka ditawarkan di 5,50 untuk menang, dengan hasil imbang di 4.20 dan The Reds dipasang sebagai 1,53 favorit.
Mereka kemudian memiliki pertandingan dimenangkan melawan Crystal Palace dan Aston Villa sebelum menutup musim mereka melawan judul-mengejar Tottenham Hotspur.
Berikut hasil imbang hari Selasa, Benitez mengatakan ia percaya menetapkan target poin yang akan menjadi pendekatan yang salah untuk timnya pada tahap ini musim ini dan bukannya mengatakan kepada para pemainnya untuk melakukan perlawanan mereka terhadap penurunan satu pertandingan pada satu waktu, mulai dari Anfield.
Benitez mengatakan: "Bagi kami, itu hanya tidak melihat meja terlalu banyak, itu hanya berkonsentrasi pada pertandingan berikutnya, itu saja Jika Anda melakukan angka, Anda membuang-buang waktu.
"Anda harus mencoba untuk mendapatkan tiga poin di yang berikutnya, maka mendekati orang lain dengan ide yang sama dan melihat di mana Anda setelah pertandingan terakhir."
Leave a comment