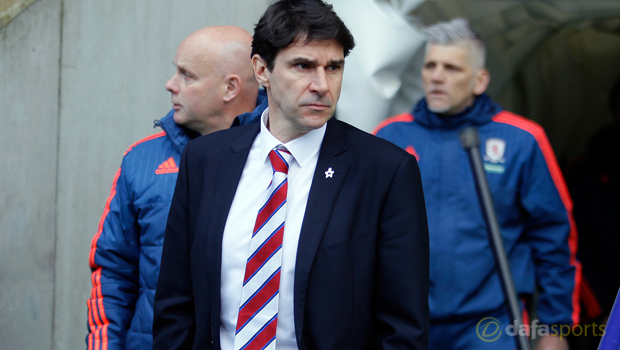 Pelatih Middlesbrough, Aitor Karanka, menegaskan dirinya senang telah kembali di arena pelatihan saat dia mulai merancang game plan menjelang kampanye Liga Premier.
Tim Teesside ini meraih promosi ke top-flight melalui penempatan otomatis di musim lalu, saat mereka finish juara dua, dibawah Burnley, di Kejuaraan.
Karanka has welcomed back his squad this week as they begin pre-season training and look to hit the ground running when the Premier League season kicks off on August 13.
Karanka telah menyambut kembali skuadnya pekan ini, saat mereka memulai latihan pra-musim, dan bersiap untuk memulai musim Liga Premier dengan penuh semangat, tanggal 13 Agustus mendatang.
Boro, yang odds-nya 2,25 untuk terdegradasi, baru menghabiskan kurang dari dua bulan untuk merayakan prestasi mereka, tapi kini mereka harus kembali bekerja keras saat berusaha untuk mempertahankan status top-flight mereka, dan membangun masa depan yang cemerlang.
Pelatih asal Spanyol ini berharap untuk berpegang pada pedoman yang sama dengan saat mereka meraih promosi, dan ia bersikeras dirinya senang telah melalui perjalanan hebat itu dengan skuad terkininya.
Karanka berkata: "Setelah laga [Brighton] itu, semuanya telah berubah bagi kami. Saat saya tiba kemarin, saya merasa seolah hari itu telah lama sekali berlalu.
"Namun saat kami kembali berlatih hari ini, saya merasa seakan kami masih berada di saat itu. Semua pemain tahu betapa sulitnya untuk mencapai posisi ini.
"Enam pemain di line-up, saat melawan Brighton, berjuang untuk tetap di Kejuaraan dengan saya, saat saya tiba disini." Eks-asisten pelatih Real Madrid ini telah merekrut pemain baru di skuadnya, tapi dia mengaku dirinya akan memberikan pemain Kejuaraannya kesempatan, untuk membuktikan bahwa mereka siap untuk melaju, menjelang laga pembuka mereka melawan Stoke.
Tambahnya: "Saya kenal mereka, mereka kenal saya, maka untuk alasan itu, kami akan tetap maju. Kini kami memiliki dua atau tiga pekan untuk merekrut pemain baru, tapi kami berada di Liga Premier berkat pemain yang sudah disini, maka ini waktu yang tetap bagi mereka untuk meyakinkan saya.
"Bekerja sama, dan menuju hal yang sama bersama-sama, hanya itu yang penting.
"Sekarang, kami harus membangun tim dengan cara yang sama, untuk berusaha memasukkan pemain baru, dan tetap berkembang dengan cara yang sama."
Leave a comment