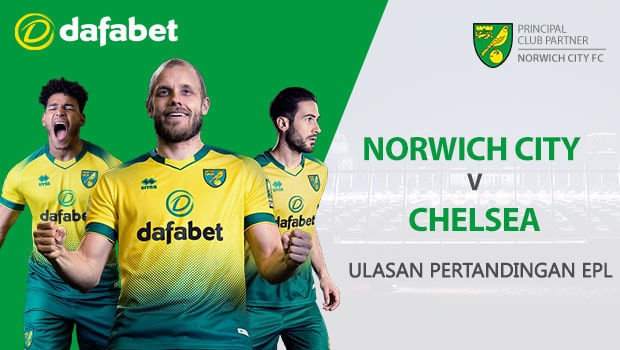 Norwich City dan Chelsea akan bertemu Sabtu ini dalam laga Liga Premier di Carrow Road. Sim AccuScore memiliki beberapa nilai samping dalam hal ini.
Mari kita lihat lebih dekat di mana nilainya berada dalam pertarungan ini.
Pilihan Dafabet
Team to Win (Waktu Reguler)
• Kota Norwich: 3,95
• Gambar: 4.00
• Chelsea FC: 1.90
Penyebaran
• Kota Norwich +0.5, +1: 1.79
• Chelsea FC -0.5, -1: 2.16
Total
• Lebih dari 3: 1.99
• Di bawah 3: 1.91
Yang Harus Diperhatikan
Seri: Ada peluang sekitar 25 persen pertandingan akhir pekan ini berakhir seri. Itu terjadi di bawah 24,7 persen sims AccuScore, menunjukkan tidak ada nilai tambah pada pilihan.
Skor yang diproyeksikan adalah 1,86-1,71, mendukung Chelsea.
6 Terakhir: Norwich City memiliki 3 kemenangan, 2 kerugian dan 1 kerugian di 6 terakhir mereka secara keseluruhan. Norwich menang 3-1 di kandang melawan Newcastle. Chelsea mencari kemenangan pertama mereka musim ini setelah bermain imbang berturut-turut melawan Liverpool dan Leicester City, secara berturut-turut. Mereka memiliki 2 kemenangan, 3 seri dan 1 kekalahan dalam enam pertandingan terakhir mereka secara keseluruhan.
Waktu Teemu: Hanya dalam dua pertandingan musim ini, Teemu Pukki sudah memiliki empat gol. Itu setelah mencetak 29 gol dan mencetak 9 assist dalam 43 pertandingan Championship musim lalu. Dia memasuki pertarungan ini setelah hattrick pekan lalu melawan Newcastle.
Head to Head: Chelsea dan Norwich City terakhir kali bertanding di Janary 2018 di Piala FA. Chelsea menang dalam adu penalti setelah bermain imbang 1-1. Mereka terakhir kali bertanding di Liga Premier pada Maret 2016 ketika Chelsea menang 2-1.
Pemimpin yang Diproyeksikan
Mason Mount memiliki peluang 36 hingga 37 persen untuk menjaringkan bola bagi Chelsea. Tingkat rata-rata pemasangan 3,13 tembakan per sim, 1,29 tembakan ke gawang per dan 0,45 gol per sim.
Teemu Pukki, yang mengawali musim dengan luar biasa, memiliki peluang 57+ persen untuk mencetak gol bagi Norwich City. Pukki rata-rata 2,72 tembakan secara keseluruhan per sim, 1,22 tembakan ke gawang per dan 0,83 gol per sim.
Pilihan Analis
Kota Norwich +1
Ada peluang 56 persen Norwich City kalah dengan 1 gol, berakhir imbang, atau menang. Mereka selesai imbang dalam 25 persen simulasi, kehilangan 41 persen simulasi dengan pawai 0,17 gol dan menangkan 34 persen sim. AccuScore memproyeksikan Norwich City menjadi sedikit lebih kompetitif daripada picks lepas pantai; nilai samping pada Norwich menjadikan ini pilihan tren bintang empat (dari empat).
Leave a comment