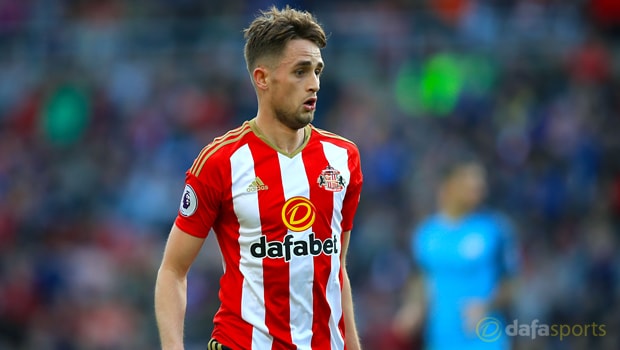 Adnan Januzaj telah meminta tim Sunderland-nya untuk bermental kuat saat mereka berusaha untuk keluar dari posisi berbahaya lagi.
Pemain asal Belgia ini bergabung di Black Cats sebagai pemain pinjaman dari Manchester United, musim panas lalu, yang mempersatukannya dengan pelatih yang memberikan awal karirnya di Old Trafford, David Moyes.
Setelah kelakuan dan kinerjanya diragukan, dia mulai untuk lebih mengesankan beberapa minggu terakhir ini, dan tampaknya akan memegang peran kunci dalam perjuangan timnya untuk bertahan.
Dengan tersisa 10 laga lagi, Sunderland kini menempati ranking terbawah di klasemen, dan sebagai unggulan di odds 1,06 untuk terdegradasi, memerlukan kebangkitan ajaib lainnya untuk tetap di top flight.
They will be looking to kick-start their survival bid on April 1 when they meet Watford in a game they are 4.33 to win, with the draw 3.40 and the Hornets 1.85 to claim the points at Vicarage Road.
Mereka akan memulai perjuangan kebertahanan mereka tanggal 1 April nanti, saat mereka melawan Watford, dengan odds 4,33 untuk menang, odds hasil seri 3,40, dan odds Hornets 1,85 untuk merebut seluruh poin di Vicarage Road.
Pengaruh Januzaj tentunya adalah kunci, dan dia kini meminta rekan timnya untuk tidak meninggalkan tanggung jawab mereka, karena dia percaya memiliki mental yang kuat akan jadi penting bagi harapan mereka untuk mempertahankan status papan atas mereka.
"Kami harus mencoba memenangkan laga sebanyak mungkin, kami tidak boleh beralasan, kami harus berhasil," kata pemain berusia 22 tahun ini.
"Kita akan lebih banyak belajar saat keadaannya sulit. Musim pertala saya banyak bermain, dan ini juga tentang keyakinan – saat kita mendapatkannya dari pelatih, kita jadi lebih bagus.
"Kita ke Sunderland dan mereka selalu berjuang untuk tetap di liga.
"Ini beda. Kita harus kuat mental karena kita kalah dan seri dalam laga. Tidak gampang untuk menerima bahwa ini susah, tapi kita jadi banyak belajar."
Leave a comment