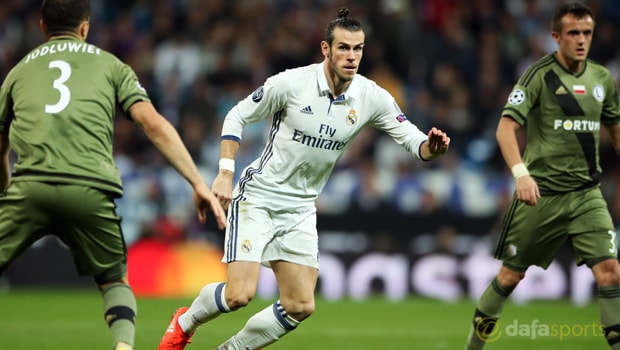 Real Madrid forward Gareth Bale has demanded an improvement from his side following their 3-3 draw with Legia Warsaw in the Champions League on Wednesday.
Pemain penyerang Real Madrid, Gareth Bale, telah mendesak timnya untuk berkembang, setelah seri 3‑3 dengan Legia Warsaw, di Liga Champion hari Rabu lalu.
Malam itu, juara bertahan Eropa ini tampak seolah akan menang dengan gampang di Stadion Polish Army, saat Bale mencetak volley jarak jauh yang menakjubkan, pada detik ke-57, yang mengunggulkan timnya itu.
Strike Bale adalah gol tercepat Los Blancos di Liga Champion, dan segera setelah itu mereka unggul 2-0, saat pemain asal Wales ini membantu Karim Benzema mencetak gol menit ke-35.
Akan tetapi, Legia, yang sebelum laga ini tanpa satu poin pun di kompetisi musim ini, balas menyerang, dan saat tersisa tujuh menit, secara mencengangkan mereka unggul 3-2.
Mateo Kovavic menyelamatkan reputasi Real dengan menerjangkan gol penyeimbang, lima menit sebelum laga berakhir, tapi setelah laga itu, Bale akui bahwa timnya harus menghindari kesalahan serupa di kemudian hari.
"Kami tidak puas dengan hasil itu, kami perlu belajar dari ini dan bangkit kembali lebih kuat," kata Bale ke beIN Sports.
"Kami mendominasi laga 2-0, dan kami kehilangan konsentrasi. Jika hal ini terjadi pada level ini, kita akan berkesulitan."
Skuad Zinedine Zidane dapat mengamankan slot mereka di babak sistem gugur, jika meraih satu poin dari laga Eropa mereka berikutnya, melawan Sporting Lisbon, tanggal 22 November nanti di Estadio Jose Alvalade.
Odds Los Blancos tersedia di 2,15 untuk menjuarai grup Liga Champion mereka, sedangkan odds mereka 6,50 untuk mempertahankan titel Eropa mereka.
Leave a comment