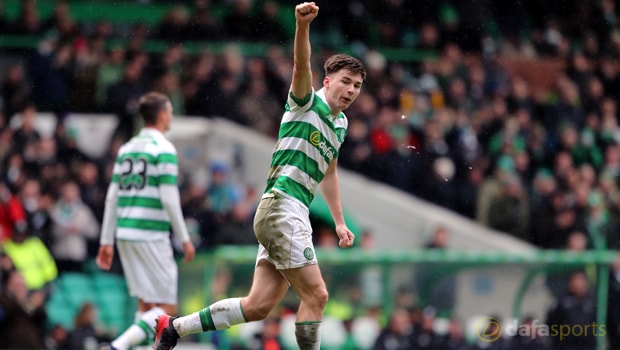 Gelandang belakang Celtic, Kieran Tierney, berharap timnya dapat meraih treble domestik musim ini, walaupun dia tahu mereka masih perlu berusaha.
Bhoys sudah meraih kejayaan Piala Liga musim ini, setelah mengalahkan Aberdeen, di final bulan November lalu.
Mereka juga di puncak Premiership Skotlandia, dengan selisih 24 poin, dan akan melawan St Mirren di perempat final Piala Skotlandia bulan depan.
Tim jagoan Glasgow ini terakhir meraih treble di tahun 2001, dan pendukung Celtic, Tierney, mengaku akan jadi menakjubkan untuk mengulangi prestasi itu.
"I have to be honest and say that I don't really remember the last time that Celtic won a treble as I was quite young," he said.
"Saya harus jujur dan bilang saya tidak ingat betul terakhir kali Celtic memenangkan treble, karena saat itu saya masih kanak-kanak," katanya.
"Tapi, di rumah kami punya semua DVD-nya, dan saya selalu tahu tentang laga-laganya dan apa yang terjadi.
"Rasanya seperti keistimewaan untuk berada di situasi kami sekarang, saat kami berkesempatan untuk meraih prestasi seperti itu."
Musim ini, tim Brendan Rodgers belum terkalahkan di ranah domestik, sejauh ini mereka menang 24 kali dalam 25 laga liga, tapi Tierney bersikeras bahwa pelatih berhasil membuat semuanya tetap realistis.
"Kami tidak mau jadi congkak," tambahnya. "Saya pikir pelatih jelas saat mengatakan yang penting itu selalu lawan selanjutnya, dan kalau kami bisa fokus kesitu, maka sisanya akan gampang."
Aksi selanjutnya bagi Celtic adalah ketika mereka menjamu Hamilton, yang tengah berjuang, di liga hari Sabtu nanti. Odds Bhoys 1,10 untuk menang, sementara odds Accies tersedia di 19,00, dan odds hasil seri 10,00.
Leave a comment