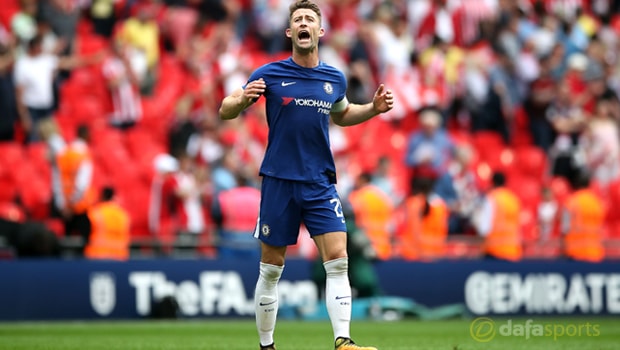 Kapten Chelsea Gary Cahill menjaga asa mendapatkan tempat di skuad Inggris untuk Piala Dunia 2018 setelah kembali tampil bersama The Blues beberapa minggu terakhir.
Cahill dicadangkan selama sekitar 2 bulan musim ini dan menimbulkan pertanya-pertanyaan serius terkait masa depan nya di Stamford Bridge.
Namun semenjak awal bulan ini, bek berusia 32 tahun itu sudah dipasang kembali di starting lineup dan membantu tim nya melaju ke final Piala FA saat mengalahkan Southampton di babak semi-final hari Minggu lalu.
Terlepas dari petualangan mereka di kompetisi Piala FA, musim ini terbilang mengecewakan bagi Chelsea, yang dikabarkan akan berpisah jalan dengan sang manager Antonio Conte musim panas ini, yang terlihat tidak akan finis di 4 besar.
Harapan Cahill untuk Piala Dunia terlihat habis selama periode waktu itu, ketika ia hanya duduk di bangku cadangan The Blues, dan ditinggalkan oleh Gareth Southgate saat skuad nya berlaga dalam pertandingan persahabatan dengan Italia dan Belanda.
Mantan bintang Bolton Wanderers menghadapi persaingan untuk mendapatkan tempat dalam pesawat Inggris menuju Rusia musim panas ini, namun ia percaya bahwa masih ada peluang bagi nya mendapat tempat di skuad The Three Lions.
"Segala nya adalah tentang peluang, selama anda bermain, itu kenapa saya senang dapat kembali ke lapangan," dikatakan Cahill.
"kita lihat apa yang akan terjadi di akhir musim. Kami sekarang berada di final Piala FA, dan Piala Dunia juga sudah dekat. Mari menunggu dan lihat saja."
Cahill diharapkan dapat bermain dari awal saat berhadapan dengan Swansea yang berada di ambang degradasi pada Sabtu malam, dan pasukan Conte difavoritkan bursa taruhan dengan odds 1,50, hasil imbang dengan odds 4,20, sedangkan kemenangan The Swans dengan odds 7,00.
Leave a comment