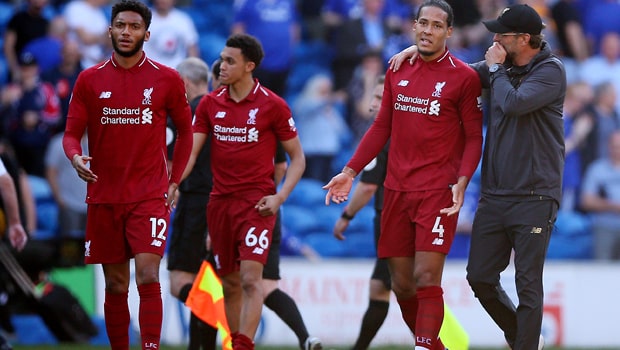 Jurgen Klopp mengatakan Liverpool telah menghindari potensi 'kulit pisang' dengan mengatasi Cardiff City 2-0 pada hari Minggu.
Gol di babak kedua dari Georginio Wijnaldum dan penalti James Milner memastikan Liverpool mengakhiri akhir pekan di mana mereka memulai, puncak Liga Premier dengan dua poin unggul dari Manchester City.
Sang juara telah pindah ke posisi terdepan pada hari Sabtu dengan keberhasilan kandang yang tipis melawan Tottenham tetapi, meskipun babak pertama yang sulit di South Wales, Liverpool merebut kembali posisi teratas.
The Reds akan berharap bahwa City terhenti dalam derby Manchester di Old Trafford pada hari Rabu, tetapi untuk saat ini Klopp dengan senang hati mendapatkan tiga poin berharga di papan.
"Itu disiapkan untuk menjadi kulit pisang yang tepat dan kami tahu itu. Anak-anak itu tidak bisa dipercaya. Jelas itu akan sulit bagi kita semua," kata bos The Reds.
"Cuaca berubah dan membuatnya jauh lebih intens. Kami tahu kami harus tetap sabar dan melakukan hal yang benar. Keadaan sangat sulit di lapangan, jadi umpan tidak mudah."
"Anak-anak tidak frustrasi. Kami memiliki peluang bagus di babak pertama tetapi kami tahu jika kami melanjutkan, kami akan memiliki peluang. Sangat brilian bagaimana kami mencetak gol."
Liverpool menghadapi Huddersfield pada hari Jumat, bertekad untuk memenangkan tiga pertandingan terakhir mereka dan memberi tekanan pada tim Pep Guardiola.
Liverpool sekarang telah memenangkan sembilan pertandingan berturut-turut di semua kompetisi, kemenangan beruntun terlama sejak April 2014 di bawah Brendan Rodgers.
Sisi Anfield adalah 2,20 untuk mengakhiri penantian 29 tahun mereka untuk gelar papan atas, dengan Man City tetap favorit di 1,62.
Leave a comment