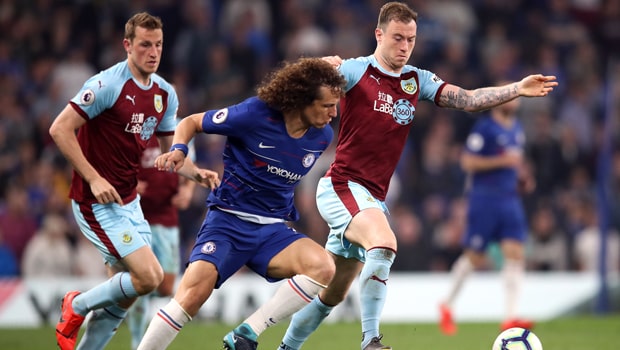 Gianfranco Zola dan David Luiz dengan cepat menunjuk jari pada Burnley menyusul hasil imbang 2-2 di Stamford Bridge pada Senin malam.
Poin tersebut mengangkat Chelsea ke empat besar tetapi mereka hanya memimpin Arsenal dengan satu poin dan The Gunners masih memiliki satu pertandingan di tangan.
Victory akan melihat The Blues melompati Tottenham ke posisi ketiga. Semua gol dicetak dalam 24 menit pertama, dengan Jeff Hendrick mencetak gol pertama untuk Burnley sebelum N'Golo Kante menyamakan kedudukan.
Gonzalo Higuain menjalakan bola untuk membawa Chelsea unggul meski Ashley Barnes menyamakan kedudukan dari jarak dekat.
Burnley jelas senang menghentikan pertandingan setelahnya, dengan Tom Heaton mendapatkan kartu kuning pada menit ke-32 – kiper paling awal di Liga Premier diberikan kartu kuning karena membuang-buang waktu dalam permainan.
Maurizio Sarri dikirim ke tribun pada akhir akhir pertandingan ketika kemarahan pada hakim garis dan Zola merasa wasit Kevin Friend tidak menambah waktu yang cukup untuk mengkompensasi taktik Burnley yang membuang waktu.
"Lima menit injury time tidak cukup sebagai kompensasi," kata Zola kepada BBC Sport.
"Kami mengira ini pertandingan yang sulit. Kami tidak mengira begitu banyak waktu. Kami berharap wasit memberi lebih banyak waktu tambahan. Itulah sebabnya kami sangat tidak bahagia."
Luiz terlibat dalam pertengkaran dengan Ashley Barnes dan pemain Brasil itu tidak menahan diri untuk menilai The Clarets setelah malam yang membuat frustrasi di Stamford Bridge. "Ini anti-sepakbola," kata Luiz kepada Sky Sports.
"Kehilangan waktu sepanjang pertandingan, terutama saat Anda menguasai bola. Para pemain mereka bersandiwara dilantai lapangan dan menghentikan pertandingan.
"Mereka bermain 11 di dalam kotak. Sulit untuk mencetak gol melawan tim seperti itu." Sulit ketika Anda bermain melawan tim yang memiliki dua peluang dan mencetak dua gol, dan tidak ingin memainkan permainan."
Chelsea bertandang ke Manchester United pada hari Minggu dan mereka 2,60 untuk menang, sedangkan The Blues sekarang 2,38 untuk mengamankan finis empat besar musim ini.
Leave a comment