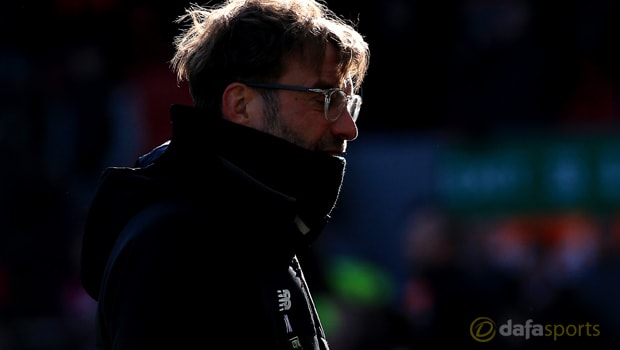 Jurgen Klopp mengatakan Liverpool harus fokus pada hasil mereka sendiri daripada melihat tim di sekitar mereka di Liga Premier.
The Reds memanfaatkan Manchester United, Chelsea dan Tottenham tidak aktif pada hari Sabtu saat mereka melewati West Ham 4-1 di Anfield untuk pindah ke tempat kedua.
Mereka mungkin mengganti tempat jika Man United mengalahkan The Blues pindah ke Old Trafford pada hari Minggu tapi, sebaliknya, itu akan menjadi hasil positif bagi Liverpool saat kedua tim di belakang mereka bentrok.
Klopp tidak akan terpengaruh, menegaskan Liverpool harus fokus pada pertandingan berikutnya karena mantan bos Reds Rafael Benitez membawa Newcastle ke Merseyside.
"Bisakah kita tinggal untuk kedua kalinya? Itu tergantung hasil yang lain," kata Klopp.
"Kami harus fokus pada diri kami sendiri. Pertandingan berikutnya adalah Newcastle dan Rafa Benitez adalah salah satu manajer terbaik di dunia."
Dengan sepuluh pertandingan tersisa, Liverpool berada di jalur untuk menyelesaikan liga tertinggi mereka sejak 2013/14, dan perjalanan mereka ke Old Trafford dalam dua minggu mungkin akan pergi jauh untuk menentukan apakah mereka dapat menempati posisi kedua dari Red Devils.
Penyelesaian klinis dan serangan balik Liverpool lagi membuktikan perbedaannya karena West Ham tidak memiliki jawaban.
Klopp merasa itu tampilan yang sempurna dari timnya. "Kami bertahan dengan baik dan menyerang dengan baik," tambah Klopp.
"Serangan balik kami luar biasa, tingkat kerja yang luar biasa dan sikapnya fantastis.
"Anda berharap untuk permainan seperti ini, dan Anda ingin melihatnya, tapi sangat jarang Anda mendapatkannya.
"Kami mendapatkannya dan ini sangat penting bagi kami karena situasi di meja dan periode musim di mana kami berada."
 Liverpool mendapatkan 1,25 untuk mengalahkan Newcastle akhir pekan depan, sementara mereka sekarang 2,38 dalam taruhan Liga Premier tanpa pasar Man City.
Leave a comment