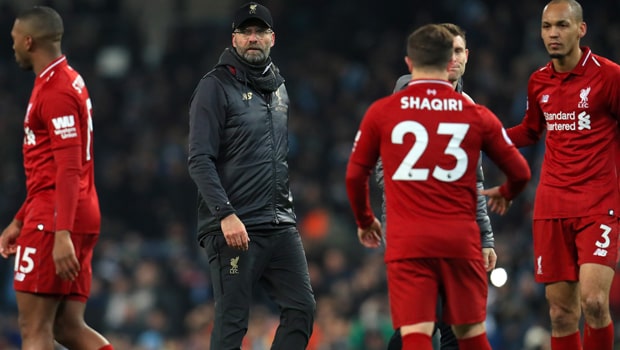 Jurgen Klopp yakin memenangkan Piala FA musim ini tidak akan cukup untuk membungkam kritik Liverpool.
The Reds telah membuat kemajuan yang stabil sejak Klopp menggantikan Brendan Rodgers di ruang istirahat Anfield pada tahun 2015, tetapi Jerman belum memenangkan trofi dengan klub, melihat timnya kalah di final Liga Champions, Liga Eropa, dan Piala EFL karena kampanye baru-baru ini.
Liverpool menghadapi pertandingan putaran ketiga Piala FA yang tampak sulit dengan Wolves di Molineux pada Senin malam dan mereka akan menuju pertandingan itu di belakang kekalahan pertama mereka di Liga Premier musim ini, yang diderita melawan Manchester City terakhir kali.
Meski kalah, Merseysiders tetap unggul empat poin di puncak klasemen saat mereka mencari gelar liga pertama dalam 29 tahun.
Klopp mengakui kemuliaan Liga Premier adalah prioritas utama bagi timnya karena dia tidak merasa memenangkan Piala FA akan cukup untuk membungkam kritik mereka.
"Selalu ketika orang-orang berbicara kepada saya tentang perak, sepertinya kita harus mendapatkan setiap hal kecil," kata Klopp kepada wartawan.
"Jika kami memenangkan Piala FA maka orang akan mengatakan bahwa kami tidak memenangkan Liga Premier selama bertahun-tahun. Kami tidak dapat mengubah apa yang dipikirkan orang lain.
"Liverpool kalah dari sisi Championship Wolves di Piala FA dua tahun lalu tetapi mereka dihargai sebagai 1,95 favorit untuk mengamankan kemenangan pada hari Senin, sementara tim Nuno Espirito tersedia di 3,80 dan seri ditawarkan di 3,50.
The Reds tentu akan yakin untuk mengamankan kemenangan, karena mereka mengklaim kemenangan 2-0 di Molineux ketika kedua tim bertemu di Liga Premier sebelum Natal – Mohamed Salah dan Virgil van Dijk mencetak gol hari itu.
Leave a comment