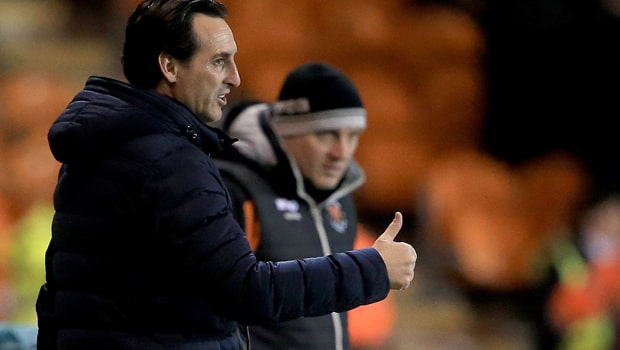 Bos Arsenal Unai Emery mengakui ada bagian-bagian skuadnya yang perlu diperkuat selama jendela transfer bulan ini.
The Gunners menikmati kemenangan rutin atas pakaian League One Blackpool di Piala FA pada hari Sabtu, dengan Emery mengambil kesempatan untuk memutar susunan pemainnya dengan berat mengikuti periode perayaan yang sibuk.
London Utara tidak kembali beraksi sampai mereka mengunjungi West Ham di Liga Premier akhir pekan depan dan Emery, untuk saat ini, mengalihkan fokusnya ke pasar transfer.
Orang Spanyol itu ingin memperkuat skuadnya dengan memperkenalkan bek tengah dan pemain sayap baru, meskipun ia tidak akan tertarik pada apakah klub tersebut ingin mengontrak pemain Barcelona, Denis Suarez, yang sebelumnya bekerja dengan Emery selama mereka bersama di Sevilla.
"Saya pikir klub bekerja untuk kemungkinan mengambil beberapa pemain yang dapat membantu kami selama empat bulan ke depan," kata Emery kepada wartawan.
"Mungkin pasar transfer dapat membantu kami dengan bek tengah, tetapi itu tidak mudah karena juga (Konstantinos) Mavropanos akan kembali setelah cedera. Juga pemain sayap, kanan atau kiri, satu pemain dapat membantu kami dalam posisi ini."
Arsenal saat ini duduk di urutan kelima dalam klasemen Liga Premier – tiga poin dari empat posisi teratas – dan mereka ditetapkan untuk menghadapi periode pengujian di papan atas saat, setelah pertandingan hari Sabtu dengan West Ham, mereka akan menghadapi pertandingan melawan Chelsea, Cardiff dan Manchester City.
The Gunners gagal finis di empat besar di masing-masing dua musim terakhir, tetapi mereka dihargai 3,75 untuk melawan tren musim ini.
Leave a comment