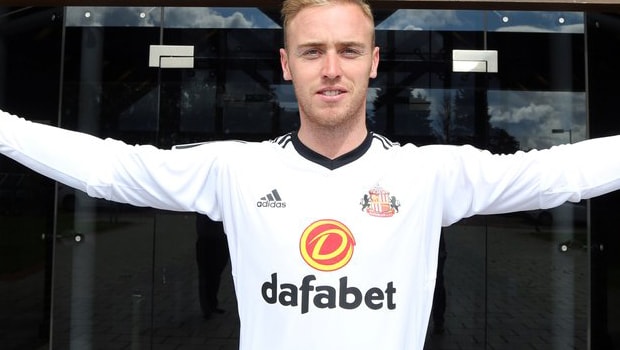 Sunderland telah merampungkan perekrutan permanen kiper, Jason Steele, dari Blackburn, sementara Lewis Grabban telah bergabung dari Bournemouth sebagai pemain pinjaman sepanjang musim.
Steele, mantan pemain internasional U-21 Inggris, telah menandatangani kontrak empat tahun di Stadium of Light.
Dia berkemungkinan menjadi penjaga gawang pilihan pertama klub musim ini, setelah keluarnya Jordan Pickford dan Vito Mannone di awal bursa transfer.
Pemain berusia 26 tahun ini, yang telah tampil 44 kali untuk Blackburn musim lalu, mengaku bahwa ini "mimpi yang terwujud" untuk bergabung dengan klub yang dia saksikan semasa kanak-kanak.
"Saya benar-benar gembira. Mimpi yang terwujud untuk bergabung di klub sehebat ini," kata Steele.
"Keluarga saya sebenarnya terbagi antara tiga klub timur laut, jadi saya menghabiskan masa kecil saya menyaksikan mereka semua, dan saya ingat datang ke Stadium of Light dengan paman dan sepupu saya."
Pemain penyerang berpengalaman, Gabban, yang menghabiskan waktunya sebagai pemain pinjaman di Reading musim lalu, juga tidak sabar untuk mulai bermain dengan Black Cats.
"Saya senang semuanya sudah diatur, dan saya menunggu musim ini," kata Grabban ke situs resmi klub. "Ukuran klub dan sejarahnya menarik perhatian saya, begitu pula pelatih."
Kedua pemain disiapkan untuk debut bagi Sunderland di laga Dafabet Cup hari Sabtu, melawan Celtic, di Stadium of Light.
Black Cats tidak terkalahkan dalam tiga laga persahabatan pra-musim terakhirnya, dan odds mereka 2,20 untuk menang atau seri, saat melawan tim juara Premiership Skotlandia.
Leave a comment