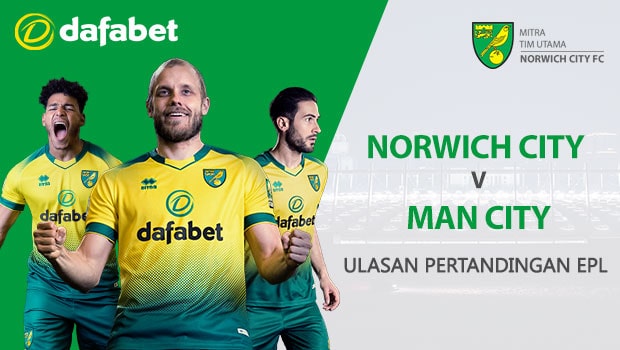 Kita akan melihat Carrow Road pada Sabtu ini saat Norwich City dan Manchester City saling berhadapan.
Norwich akan terlihat bangkit kembali dari rentetan kekalahan baru-baru ini dan berharap untuk setidaknya hasil imbang dalam pertandingan ini. Namun, tidak ada yang mudah, melawan daftar pemain seperti Manchester City.
Mari kita lihat lebih dekat di mana nilainya berada dalam pertarungan ini.
Pilihan Dafabet
Team to Win (Waktu Reguler)
• Norwich City: 15.59
• Draw: 8.93
• Manchester City: 1.17
Spread
• Norwich City +2.5: 1.82
• Manchester City -2.5: 2.13
Total
• Over 4: 2.06
• Under 4: 1.84
Yang Harus Diperhatikan
Draw: Pilihan menunjukkan ada 11 persen peluang pertarungan ini berakhir seri. Itu terjadi pada 12 persen dari sims, menunjukkan tidak banyak nilai tambah pada pilihan.
Skor rata-rata dalam sims adalah 3,46 – 1,01, mendukung Man City.
Tugas Internasional: Man City kembali melancarkan pada awal pekan ini dengan beberapa pemain pada tugas internasional. Mereka datang dari kemenangan 4-0 di Liga Premier atas Brighton dan akan terus melanjutkan upaya untuk menyingkirkan lawan.
Both Sides: Norwich tampaknya menyerang dengan cara yang benar – hanya perlu terhubung lebih sering dan mengencangkan garis belakang mereka. Mereka terikat untuk No 1 di liga dalam woodwork, dan No 3 di liga dalam gol dari dalam kotak. Secara defensif, upaya itu jelas ada di sana. Norwich berada di peringkat ke-2 di liga. Mereka sepertinya lebih sering diserang daripada tidak.
Head to Head: Kedua belah pihak terakhir kali bertanding dalam aksi Liga Premier pada Maret 2016 ketika mereka selesai imbang tanpa gol. Norwich terakhir kali mengalahkan Manchester City pada 2013.
Pemimpin yang Diprediksikan
Sergio Aguero memiliki peluang 70+ persen untuk menjaringkan bola untuk Man City akhir pekan ini, rata-rata 4+ tembakan secara keseluruhan per sim, 1,55 tembakan ke gawang per, dan 1,22 gol per sim.
Bagi Norwich, kami tidak akan memedulikan Teemu Pukki. Dia rata-rata 2+ tembakan keseluruhan per sim, 1,03 tembakan ke gawang per dan 0,5 gol per sim. Ia hampir memiliki peluang 40 persen untuk mencetak gol.
Pilihan Analis
Safe pick: Man City untuk menang; Bold pick: Man City -2.5
Tidak mengherankan di sini, Man City adalah favorit dan diproyeksikan akan menang dengan 2+ gol. Tidak ada banyak nilai dalam money line karena Anda harus membayar terlalu banyak untuk mendapatkan sedikit. Man City memenagkan outright adalah pilihan tren bintang empat (dari empat). Mereka menang, rata-rata, masing-masing pertandingan simulasi dengan selisih +2,45 gol.
Pastikan untuk memeriksa semua prediksi MLB, NFL, NCAA, NHL, NBA, dan pertandingan sepak bola lainnya dari AccuScore.
Leave a comment