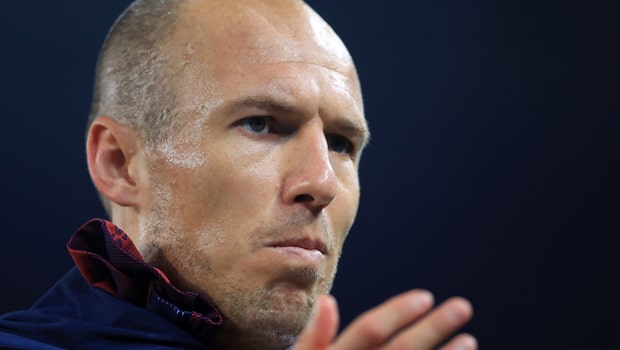 Pemain sayap Bayern Munich Arjen Robben mengakui timnya berada dalam pertempuran yang sulit ketika mereka melakukan perjalanan ke Anfield untuk menghadapi Liverpool di Liga Champions UEFA pada Selasa malam.
The Reds akan menuju permainan setelah istirahat singkat, dengan pasukan Jurgen Klopp tidak bermain akhir pekan ini setelah tersingkir dari Piala FA oleh Wolves pada Januari.
Sisi Klopp tetap menjadi favorit untuk leg pertama karena eksploitasi baru-baru ini di Liga Premier, sementara Bayern telah berjuang di Bundesliga di bawah Niko Kovac.
The Bavarians bangkit dari ketinggalan untuk memenangkan pertandingan liga terakhir mereka melawan Augsburg tetapi mereka mungkin perlu mengalahkan Liverpool tanpa Robben.
Pemain asal Belanda itu berjuang untuk mengatasi cedera paha meskipun dia juga mengakui dia memiliki kenangan menyakitkan bermain di Merseyside. Dia telah menderita tiga eliminasi Eropa di kandang Liverpool bersama Chelsea dan Real Madrid dan dia mengharapkan malam yang sulit bagi raksasa Jerman.
"Saya pikir jika Anda bertanya tentang stadion terburuk bagi saya, itu mungkin Liverpool," kata Robben kepada Mail, Minggu.
"Harus ada satu. Anda selalu memiliki lawan favorit Anda dan selalu ada yang negatif. Mereka berkembang dengan sangat baik. Puji manajer baru, yang telah melakukan pekerjaan dengan baik.
"Tahun lalu mereka berada di final Liga Champions, bermain baik di liga dan saat ini mereka level di atas, City sudah dekat.
"Itulah gelar yang ditunggu-tunggu semua orang di Liverpool. Sudah lama sekali mereka memenangkan liga dan itulah yang mereka impikan."
Liverpool odds 1.95 untuk menang di Anfield, dengan imbang odds 3.75, sedangkan Bayern odds 3.60 untuk memenangkan pertandingan pada Selasa malam.
Leave a comment