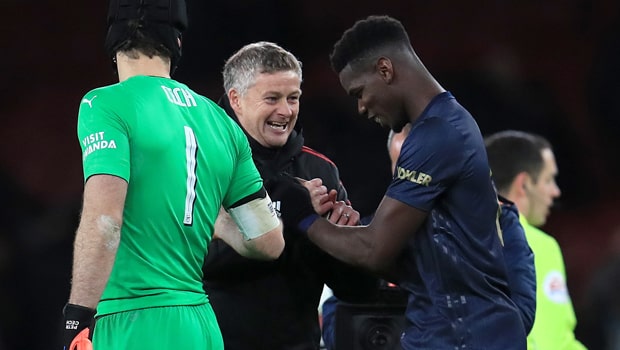 Gelandang Manchester United Paul Pogba telah menumpukan pujian pada pelatih sementara Ole Gunnar Solskjaer setelah mengubah suasana di dalam ruang ganti sejak kedatangannya.
Mantan striker United mengambil alih Setan Merah pada bulan Desember setelah diberi kontrak sampai akhir musim. Dia telah membuat dampak langsung, memenangkan delapan pertandingan pertamanya yang bertanggung jawab serta membantu tim melakukan 11 pertandingan tanpa terkalahkan.
Itu akhirnya berakhir Selasa lalu ketika Paris Saint-Germain terbukti terlalu kuat di leg pertama babak sistem gugur Liga Champions UEFA.
Solskjaer berharap untuk mendapatkan pekerjaan itu secara permanen dan Pogba menegaskan dia telah 'menyatukan' pasukan dan dia percaya itu memiliki perasaan yang mirip dengan Kelas '92.
"Saya mencoba memberikan pengalaman saya kepada yang lebih muda karena saya memiliki kesempatan untuk bermain di Piala Dunia, saya telah bermain di final Liga Champions dan final Liga Eropa," katanya kepada The Sun.
"Jadi saya mencoba meneruskannya kepada para pemain. Itu adalah budaya klub ini, generasi (David) Beckham, (Paul) Scholes, (Nicky) Butt, Gary Neville.
"Ketika kamu datang dari Akademi kamu ingin bermain untuk tim utama dan melakukan hal-hal hebat. Ole telah banyak membantu saya, sama seperti dia telah membantu semua pemain. Dia hanya membawa kebahagiaan ini, kesenangan ini, kepada kita semua.
"Sebagai mantan pemain United dia tahu budaya, dia tahu segalanya tentang klub dan dia tahu bagaimana berbicara dengan para pemain juga. Jadi itu benar-benar sangat membantu saya."
United selanjutnya beraksi pada Senin malam melawan Chelsea di Piala FA dan mereka ditawarkan pada odds 3.50 untuk menang di Stamford Bridge. The Blues tetap menjadi favorit odds 2.05, sementara imbang odds 3.60.
Leave a comment