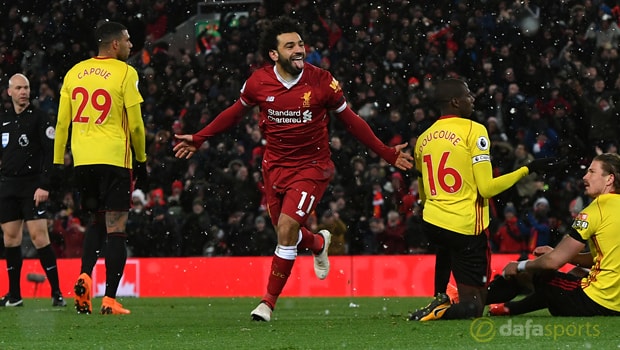 Boss Liverpool, Jurgen Klopp memuji performa super dai Mohamed Salah saat Liverpool mengalahkan Watford 5-0 dalam lanjutan Liga Primer Inggris akhir pekan lalu.
Penyerang Mesir itu menyarangkan 4 gol untuk The Reds di Anfield, manambah jumlah gol nya menjadi 28 dan sekarang jumlah tersebut mengungguli pesaing terdekat nya, Harry Kane sebanyak 4 gol di peringkat pencetak gol terbanyak.
Penampilan terkini pemain berusia 25 tahun itu jelas menyenangkan Klopp, yang tidak memiliki komentar apapun selain pujian untuk pemain yang direkrutnya dari Roma musim panas lalu itu.
Ketika ditanya tentang Salah, Klopp mengatakan: "ia sudah menjawab nya dengan 4 gol".
"Jika pertanyaan nya adalah, 'apa pendapat saya tentang itu', saya rasa itu luar biasa."
Performa Salah semenjak direkrut Liverpool juga mulai menuai perbandingan dengan beberapa pemain besar dunia lain nya termasuk Messi, namun Klopp berpendapat tidak tepat untuk membandingkan nya dengan penyerang Barcelona itu.
"Ya, saya rasa Salah sedang menuju kesitu (menjadi salah satu pemain terbaik dunia)," kata Klopp.
"Itu bagus. Tapi saya rasa Salah atau siapapun tidak ingin dibandingkan dengan Lionel Messi."
Hasil tersebut mengangkat kembali Liverpool ke peringkat 3 di Liga Primer Inggris, 2 poin tertinngal dari Manchester United di peringkat dua, dan bursa taruhan menaruh odds 1.08 untuk Liverpool Finish 4 besar di akhir musim.
The Reds juga masih melaju dengan baik di Liga Champion dan akan berhadapan dengan Manchester City di perempat final bulan depan.
Leave a comment