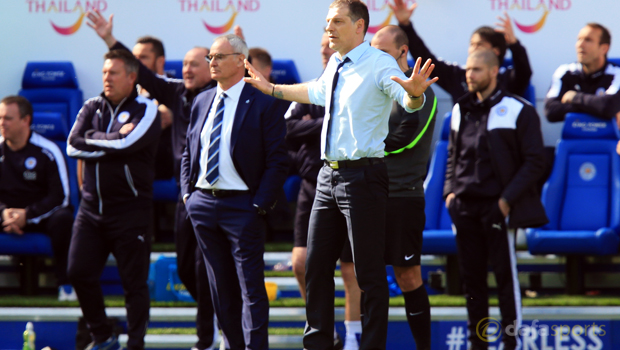 Bos West Ham Slaven Bilic mendesak timnya untuk pindah kepada hasil imbang mereka dengan Leicester City dan kembali ke jalur kemenangan sesegera mungkin.
The Hammers imbang 2-2 atas Leicester pada hari Minggu, keempat mereka berturut-turut, dan menjalankan mereka bentuk telah melihat mereka drop down ke keenam dalam tabel liga, tujuh poin di belakang Arsenal, yang menempati keempat – dan terakhir – Liga Champions kualifikasi spot.
West Ham mengambil Watford pada Rabu dan striker Diafra Sakho akan kembali dalam skuad setelah pulih dari cedera lutut. Bilic telah menuntut pemainnya mengambil tiga poin ketika mereka mencoba untuk menempatkan tekanan pada The Gunners.
Dia mengatakan kepada Sky Sports. "Kesenjangan ke empat besar tetapi dapat dikurangi tapi kami harus memenangi pertandingan Kami masih dalam perlombaan besar untuk tempat Eropa.
"Siapa saja yang melihat bagaimana kami bermain di Leicester melihat kami memiliki semangat tim yang hebat dan motivasi besar.
"Kami memiliki pertandingan besar sepak bola besok malam melawan Watford, jadi kita perlu bicara tentang itu, bukan permainan yang terjadi hari lalu."
Anak asuhan Bilic adalah favorit di 1,53, sementara hasil imbang yang dibanderol dengan harga 4.20. Kemenangan Watford atas West Brom melihat mereka mendaki ke-12 tetapi Hornets masih orang luar berselisih 6,00.
Leave a comment