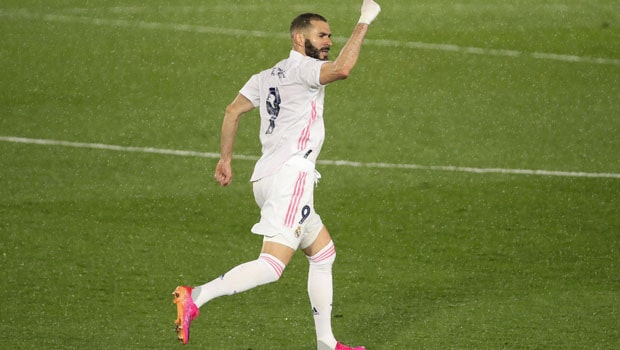 Karim Benzema melanjutkan performa impresifnya dalam mencetak gol melawan Inggris di Liga Champions UEFA, saat ia menyamakan kedudukan untuk Real Madrid dalam hasil imbang 1-1 melawan Chelsea di leg pertama pertandingan semifinal pada Selasa malam.
The Blues bermain di semifinal Liga Champions UEFA, berharap memenangkan kompetisi untuk pertama kalinya sejak 2012 ketika mereka mengalahkan Bayern Munich untuk merebut gelar.
Chelsea telah memenangkan dua dari tiga pertandingan terakhir mereka sebelum pertandingan dan tidak terkalahkan sejak kekalahan 1-0 mereka dari Porto di leg kedua pertandingan perempat final mereka.
Sisi Thomas Tuchel mengalahkan West Ham 1-0 dalam pertandingan terakhir Liga Premier mereka sementara Real Madrid ditahan imbang 0-0 oleh Real Betis di La Liga.
Pasukan Zinedine Zidane hanya memenangkan satu dari empat pertandingan terakhir mereka sebelum pertandingan ini, bermain tiga kali seri dan satu kemenangan.
Pada malam itu, The Blues yang mengambil inisiatif, mendominasi Real Madrid di stadion kandang mereka, dan mereka pantas memimpin di awal menit ke-15 babak pertama melalui Christain Pulisic. Puliaic menjadi orang Amerika pertama yang mencetak gol di semifinal Liga Champions UEFA.
Striker Prancis Karim Benzema mencetak gol menakjubkan untuk menyamakan kedudukan bagi Los Blancos pada menit ke-29.
Kedua belah pihak akan saling berhadapan di leg kedua Rabu depan, dan semifinal kedua akan dimainkan antara Paris Saint-Germain dan Manchester City pada Rabu malam.
Manchester City ingin mengambil langkah besar dalam upaya mereka untuk memenangkan treble dan Liga Champions UEFA dengan memenangkan leg pertama di Parc De Princes.
Warga yang memenangkan trofi pertama mereka musim ini setelah mengalahkan Tottenham Hotspur di Piala Carabao pada hari Minggu masih mengincar treble karena mereka duduk di puncak klasemen Liga Premier Inggris.
Sementara PSG menyingkirkan Bayern Munich di perempat final, City mengalahkan Dortmund untuk melaju ke semifinal.
Ditulis oleh Daniel Ademiju Idowu
Leave a comment