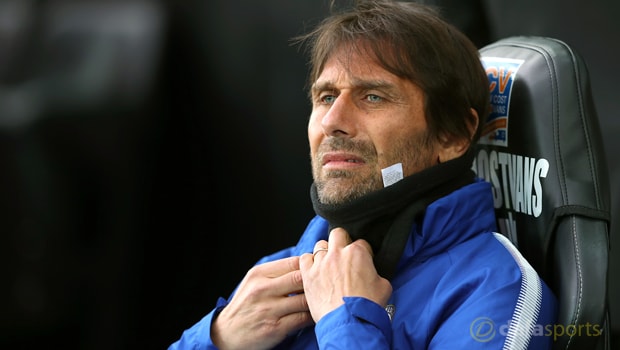 Antonio Conte merasa Chelsea melakukan hal yang tepat dalam usaha nya menyalip Spurs untuk finis di empat besar.
Cesc Fabregas menyarangkan satu-satu nya gol di Sabtu malam untuk memenangkan The Blues di kandang Swansea City.
Kemenangan itu memperkecil jarak mereka dengan Tottenham di posisi 4 menjadi hanya 2 poin, dengan Tottenham memiliki 4 laga sisa, satu laga lebih banyak dari Chelsea.
Spurs akan memainkan laga mereka di kandang Watford hari Senin dan Conte mengatakan bahwa penting untuk terus memberikan tekanan karena ia belum menyerah mengamankan tempat di Liga Champion musim depan.
"Kami dapat 3 poin dan itu sangat penting jika kami menginginkan tempat di Liga Champion," dikatakan Conte.
"Situasi sekarang tidak berada di tangan kami, namun satu-satu nya cara untuk terus menekan Tottenham adalah dengan memenangkan seluruh sisa pertandingan.
"Tidak akan mudah, kami tahu mereka akan bermain melawan Waktord. Namun anda tahu Sepakbola tidak lah semudah itu. "Tidak mudah memenangkan sebuah pertandingan di Liga ini, namun sudah jelas bahwa situasi sekarang tidak lah ada di tangan kami."
Conte sekarang sudah memenangkan 50 pertandingan dari total 73 pertandingan nya bersama Chelsea di Liga Primer, dengan hanya Mourinho (63) dan Pep Guardiola (69) yang sudah mencapai 50 kemenangan sebagai Manager di Liga Primer dalam pertandingan yang lebih sedikit.
Harapan Chelsea untuk finis 4 besar mnemui ujian sulit saat mereka harus berhadapan dengan Liverpool yang menduduki peringkat 3, Minggu depan di Stamford Bridge.
The Blues difavoritkan dengan odds 2,15 dalam pertandingan itu, Liverpool denga odds 3,10, sedangkan imbang dengan odds 3,60.
Leave a comment