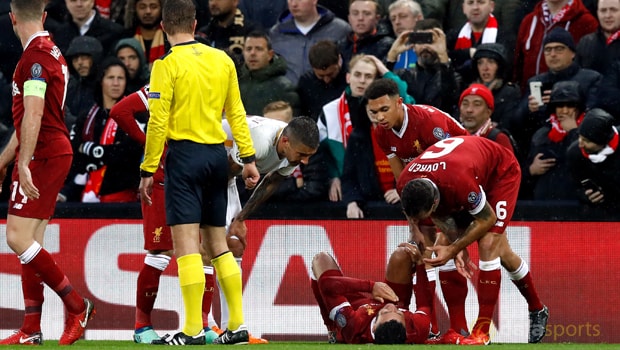 Liverpool telah mengkonfirmasi bahwa gelandang nya, Alex Oxlade Chamberlain akan melewatkan Piala Dunia Rusia musim panas ini setelah mendapatkan cedera lutut di pertandingan melawan Roma Selasa kemarin.
Gelandang Inggris itu sudah melakukan pemindaian hari Rabu setelah mendapat cedera nya di babak pertama di Anfield.
The Reds sudah mengkonfirmasikan bahwa musim nya sekarang sudah habis, dengan mantan pemain Arsenal itu juga sudah kehilangan peluang nya untuk berangkat bersama pasukan Gareth Southgate ke Piala Dunia Juni nanti.
"Liverpool FC dapat memastikan musim Alex Oxlade Chamberlain di 2017/18 sudah berakhir baik untuk klub maupun timnas dikarenakan cedera ligament yang didapat saat melawan AS Roma Selasa malam," pernyataan dari situs resmi klub.
"Sang gelandang terpaksa ditandu keluar lapangan setelah bermain 18 menit dalam kemenangan 5-2 untuk the Reds di pertandingan Liga Champion di Anfield, setelah kesakitan dengan lutut nya setelah mencoba men-tekel lawan."
Tim di Anfield menyatakan bahwa sang gelandang akan memulai program rehabilitasi dengan target agar musim depan sang pemain dapat fit dan siap kembali, dengan Piala Dunia Rusia sudah dipastikan tidak ada di agendanya.
"Dampak dari cedera ini juga bahwa Oxlade Chamberlain dipastikan tidak dapat menyelesaikan musim nya untuk sisa pertandingan Liverpool, begitu juga dengan Piala Dunia di Rusia," dimasukkan dalam pernyataan nya.
"Bagaimanapun juga, Oxlade Chamberlain sekarang akan memulai program rehabilitasi untuk memungkinkan nya kembali ke bentuk terbaik secepat mungkin, untuk kembali ke lapangan musim depan."
Liverpool diberikan odds 2,50 untuk memenangkan Liga Champion musim ini. Real Madrid difavoritkan setelah 3 kali berturut-turut menjadi juara dan setelah mengungguli Bayer Munich 2-1 dalam pertandingan leg pertama di Jerman Rabu kemarin.
Leave a comment