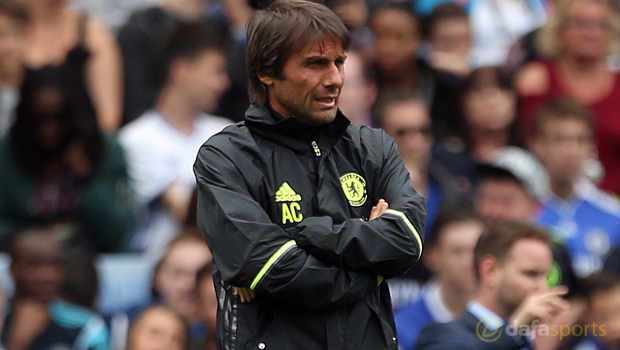 Pelatih Chelsea, Antonio Conte, mengakui bahwa ia ingin mencoba dan meniru semangat tim Leicester dari musim lalu, saat ia mencoba untuk membantu tantangan klub untuk silverware tahun ini.
Foxes mengejutkan dunia sepakbola selama kampanye lalu, dimana mereka didukung untuk gelar Liga Premier, sementara Chelsea berjuang setelah tampil dengan buruk dibawah mantan pelatih Jose Mourinho.
The Blues gagal lolos ke Eropa, namun sekarang Conte bertekad untuk meningkatkan keberuntungan mereka setelah bergabung dengan the Blues pada musim panas lalu.
Ia membantu Italia membungkam orang yang meragukan mereka di Kejuaraan Eropa baru-baru ini, dan saat ini pelatih berusia 47 tahun ini sedang berusaha meniru semangat tim Leicester. Berbicara menjelang kampanye baru, Conte mengatakan: "Ini adalah contoh yang luar biasa.
Dan saya pikir bahwa klub yang hebat harus selalu belajar dari apa yang terjadi pada musim lalu.
Karena sebuah tim, tim yang hebat, yang memenangkan liga, menjadi tim yang hebat, Leicester.
"Ranieri dan para pemain melakukan pekerjaan yang luar biasa, karena mereka menciptakan semangat yang tepat.
Dan ketika Anda menyaksikan permainan Leicester, Anda akan memahami perasaan hebat diantara para pemain.
"Hal itu penting untuk dimiliki, jika Anda ingin menang.
"Sangat penting untuk memiliki bakat, pemain yang luar biasa, namun penting juga untuk menciptakan semangat yang tepat."
Conte harus menunggu hingga hari Senin untuk laga pertama timnya melawan West Ham United musim ini.
Chelsea akan terbayar 1,67 untuk menang, dengan hasil seri akan terbayar 3,80, sementara Hammers dapat didukung dengan odds 5,25.
Leave a comment