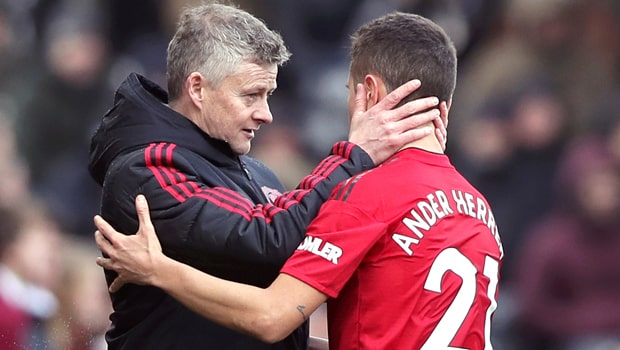 Ander Herrera berpikir Ole Gunnar Solskjaer adalah orang yang tepat untuk menngelola Manchester United tetapi dia menyadari juga bahwa pria Norwegia itu perlu diberi waktu ketika ia berusaha untuk menghidupkan kembali kejayaan klub.
United menyelesaikan kompetisi di urutan keenam di Liga Premier setelah hanya memenangkan dua dari 12 pertandingan terakhir mereka dan mengakhiri kampanye dengan hasil imbang melawan Huddersfield Town yang merupakan juru kunci di klasemen dan kalah dari Cardiff City yang berada di urutan ke 18 di Old Trafford.
Solskjaer mengambil alih jabatan sementara klub pada bulan Desember setelah kepergian Jose Mourinho dan memenangkan 10 dari 11 pertandingan pertamanya semenjak mengambil alih, termasuk kemenangan yang mengesankan di Paris St-Germain di Liga Champions.
Namun, sejak ia dipekerjakan secara permanen pada bulan Maret, penampilan United malahan menjadi mengerikan dimana mereka akan bermain di Liga Eropa musim depan.
Herrera, yang meninggalkan United musim panas ini setelah menghabiskan lima tahun terakhir bersama klub, mengatakan: "Saya benar-benar percaya pada Ole.
Dia orang yang tepat. Saya benar-benar percaya pada (staf pelatih) … tapi saya pikir ada pekerjaan berat di depan. Klub akan membutuhkan waktu, kepercayaan diri dan dukungan.
"Liverpool mungkin akan memenangkan Liga Champions tetapi … mereka belum memenangkan satu gelar sejak lima tahun saya di sini.
Mereka telah melakukan pekerjaan yang luar biasa tetapi para penggemar telah memberi mereka waktu. Itulah yang dibutuhkan klub ini saat ini."
The 29-year-old Spaniard is expected to sign for PSG this summer. Manchester United are available at 13.00 to win the 2019/20 Premier League title, while Manchester City can be backed at 1.62 and Liverpool at 3.75.
Pemain Spanyol berusia 29 tahun ini diperkirakan untuk bergabung bersama PSG musim panas ini. Manchester United diberikan odds 13.00 untuk memenangkan gelar juara liga inggris musim 2019/20, dimana Manchester City diunggulkan dengan odds 1.62 dan Liverpool dengan odds 3.75.
Leave a comment