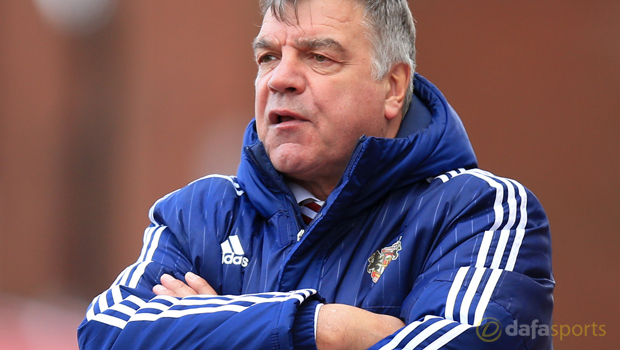 Bos Sunderland Sam Allardyce menegaskan pihaknya tidak bisa mengabaikan Everton ketika mereka mencoba untuk mengkonfirmasi kelangsungan hidup Premier League mereka pada Rabu malam.
The Black Cats saat ini duduk 17 di tabel liga dan mereka mengambil Everton di Stadium of Light mengetahui kemenangan menegaskan kelangsungan hidup mereka.
Saingan Norwich City juga mengambil Watford pada Rabu dan laki-laki Alex Neil membutuhkan kemenangan untuk melanjutkan harapan mereka tetapi Sunderland juga harus mencicipi kekalahan.
Newcastle tidak bermain sampai akhir pekan dan beberapa bagian dari dukungan Sunderland sudah mulai memimpikan tahun lagi di atas penerbangan.
Meskipun kampanye mengecewakan mereka, Everton akan menjadi ancaman serius menurut Allardyce dan mantan bos Bolton telah mendesak pemainnya untuk menangani tekanan. Berbicara menjelang kick-off, Allardyce mengatakan Guardian: "Ini masih besar, tekanan besar.
Kami punya dua pertandingan tersisa untuk mengamankan status Premier League tapi mengetahui kita bisa membunuh orang lain pada hari Rabu tekanan dalam dirinya sendiri. Bisakah kita mengatasinya?
"Everton akan keluar untuk merusak perayaan kami. Kami akan membutuhkan kinerja yang besar.
pemain Roberto akan berjuang sepanjang jalan karena kritik yang mereka terima setelah kekalahan mereka di Leicester pada akhir pekan. Kita harus benar-benar berada di permainan terbaik kami untuk mengalahkan sisi Everton yang dilakukan lebih baik jauh daripada di rumah musim ini. "
laki-laki Allardyce adalah 1.83 favorit untuk meraih tiga poin, sementara hasil imbang adalah 3.75 dan Everton dapat didukung bertentangan dari 4.20.
Leave a comment