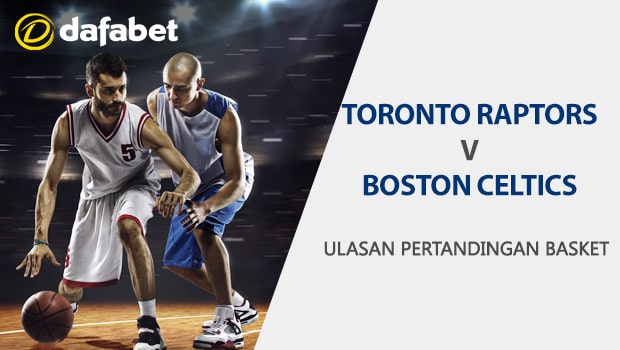 Toronto Raptors vs Boston Celtics
Kami selalu tertarik ketika situasi odds dan simulasi data Accuscore ialah berlawanan dengan garis keuangan, hal itu persis seperti apa yang sudah kita hadapi pada pertandingan antara Toronto Raptors dan Boston Celstics jumat malam.
Mari kita lihat lebih dekat di mana nilai di dalam pertandingan ini.
Odds Dafabet
Tim untuk menand (Waktu regular)
• Toronto Raptors: 2.08
• Boston Celtics: 1.82
Menyebar
• Toronto Raptors +1.5: 1.98
• Boston Celtics -1.5: 1.90
Total
• Over 213.5: 1.90
• Under 213.5: 1.99
Apa yang Harus di Perhatikan?
Gambaran Pertandingan ulang: Sangatlah terlalu dini untuk berbicara tentang pertandingan ulang dan penyemaian, akan tetapi pertandingan ini dapat berakhir dengan dampak yang besar pada klasemen dimana harus ada semacam tiebreaker. Hampir satu bulan ke musim regular, Celtics hanya di peringkat 8-6, duduk di posisi ke 4 di Timur, 3,5 pertandingan dibelakang Toronto Raptors.
Menit-menit Akhir: Menit-menit akhir pertandingan Gordon Hayward harusnya sudah diangkat; terus awasi dia untuk meningkatkan waktu permainan.
Hayward bermain 28 menit melawan Chicago pada minggu lalu, diakhiri dengan 11 poin, 4 lambungan, dan 4 bantuan dalam 111-82 kemenangan terhadap Bulls.
Hayward diproyeksikan akan menyelesaikan dengan 14 poin dan 5 rebound.
X-Factor: memilih satu sisi dalam pertandingan yang dekat seperti ini tidak lah mudah. Dan Kesakitan Marcus Morris yang menjauhkan dia dari perdandingan The Wednesday melawan Chicago dapat menjadi faktor besar melawan Toronto pada Jumat ini. Mottis sudah terkesan dalam serangan pada tahun ini untuk mengawali musim, rata-rata mendekati 15 poin dalam 50% tembakan dari lapangan, termasuk 48% dari luar busur. " kami lebih baik dengan Marcus, tidak ada pertanyaan lagi mengenai hal itu," Pelatih Kepala Celtics, Brad Stevens mengatakan dalam minggu ini.
Bertaruh dalam Jumlah Total: Odds- di 1.90- mengindikasikan 52.6 persen total kesempatan dikombinasikan dengan skor yang berjalan keatas 213.5. Hal ini terjadi terhadap 67% AccuScore, 2 bintang (dari 4 bintang kami) yang menjadi 4 tren Accuscore.
Total skor gabungan dalam sims AccuScore adalah 225+.
Pemimpin yang diproyeksikan
Kawhi Leonard diproyeksikan untuk menyelesaikan 22 poin, , 6 rebounds, 3 assists, 1 steal and 2 turnovers dari Raptors.
Untuk Celtics, Kita akan memiliki mengawasi Kyrie Irving yang diproyeksikan untuk menyelesaikan 21 poin, 5 assists, 4 rebounds and 2 turnovers.
Pengambilan Analisis
Toronto untuk kemenangan
Odds mengindikasikan ada sebuah 46-47 % kesempatan Raptors memenangkan dalam pertandingan sebagai pesaing yang memiliki sedikit kesempatan. Mereka memenangkan 52 persen dari sim AccuScore, menyarankan beberapa nilai tambah.
Skor rata-rata di AccuScore sim adalah 114-112, mendukung Road Team.
Cakupan Artikel Terkait: Portland Trail Blazers vs Minnesota Timberwolves

Leave a comment