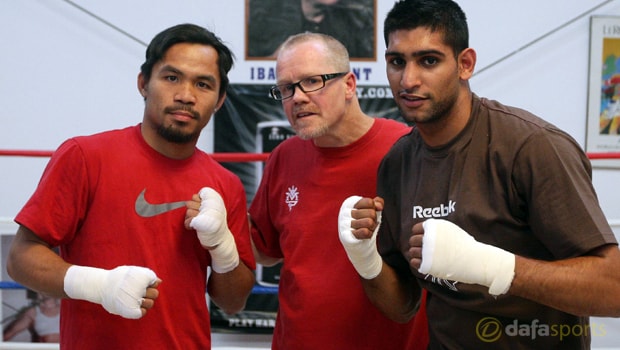 Amir Khan asal Inggris menyatakan di Twitter, bahwa telah disetujui kesepakatan dengan Manny Pacquiao untuk pertarungan di bulan April.
Mereka berdua berteman setelah sama-sama berlatih dibawah bimbingan Freddie Roach, tapi keinginan Khan akhirnya terkabul setelah berusaha mendapatkan pertarungan untuk beberapa tahun ini, saat dia berusaha untuk memenangkan lebih banyak penghargaan internasional.
Medalis perak Olimpiade ini dikabarkan akan bertarung melawan Kell Brook tahun ini, tapi kedua kamp tidak menemukan kesepakatan, dan setelah itu, Brook mendapatkan pertarungan melawan penantang wajibnya, Errol Spence Jr.
Khan belum bertarung di ring sejak bulan Mei 2016, saat dia dihentikan secara dramatis oleh Saul 'Canelo' Alvarez, setelah naik pangkat ke kelas menengah.
Jagoan berusia 30 tahun ini berada di peringkat atas, sebelum Alvarez menjatuhkannya, hingga akhirnya dia kalah dengan mengecewakan.
Pacquiao pensiun di bulan April 2016, tapi kembali ke ring dan mengalahkan Jessie Vargas, dan dua bulan lagi, dia dijadwalkan akan mempertahankan gelar kelas ringan menengah WBO-nya.
Petinju asal Filipina ini menanyakan para fans-nya bulan ini, mereka ingin dia melawan siapa, dan setelah Khan memenangkan polling-nya, keduanya kini telah menemukan kesepakatan.
Confirming the clash, Khan tweeted: "My team an I have agreed terms with Manny Pacquiao and his team for a super fight #pacquiaokhan #April23rd."
Untuk mengkonfirmasikan pertarungan itu, Khan men-tweet: "Saya dan tim saya telah sepakat dengan Manny Pacquiao, dan timnya, untuk pertarungan hebat #pacquiaokhan #23April"
Diantara kedua petinju, tidak ada yang menyebutkan lokasi spesifik pertandingan ini, hanya Bolton, Manchester, dan Uni-Emirate Arab telah disebutkan sejak pertarungan diumumkan.
Leave a comment