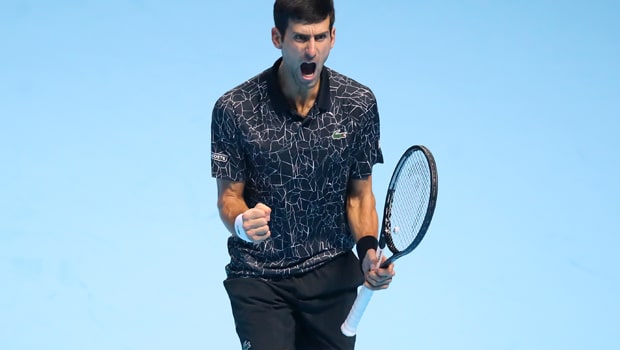 Peringkat pertama dunia Novak Djokovic mengawali ATP World Tour Finals campaign dengan kemenangan meyakinkan melawan John Isner pada hari selasa.
Pemain Serbia diberi pembuka yang tampak rumit di O2 Arena,  London, tetapi berhasil melewati perlawanan dengan meyakinkan melawan petenis Amerika.
Djokovic, yang mana diunggulkan dengan 1.36 untuk memenangkan ATP Finals, mematahkan perlawanan pada game ke lima dari set pertama dan set tujuh yang kedua, membukuhkan 6-4 6-3 kemenangan pada servis Isner dengan sebuah dengan pukulan backhand lintas lapangan di akhir perhelatan.
Pemain 31 tahun ini harus melewati pagelaran turnamen musim lalu karena cedera dan tampak bersemangat untuk menebus keabsenannya.
Dia sedang memburu mahkota keenamnya di turnamen dan akan membuktikan ketangguhan jika dia tetap bermain dengan cara yang sama.
Djokovic mengatakan : " Saya harap anda menikmati pertandingan. Sebuah hal yang baik disini untuk kembali di O2 Arena turnamen tradisional,  arena penuh sejak hari pertama. Dan saya menikmati waktu saya tetapi saya rindu bermain di turnamen ini dan senang bias kembali.
Saya mematahkan 3 servis John yang mana kadang-kadang merupakan misi yang mustahil, tetapi saya mampu berada di tempat yang benar di waktu yang tepat.
Saya memegang servis dengan baik, saya mendukungnya dari baseline, saya bermain sangat solid dan tidak memberinya banyak kesempatan
The 14-time Grand Slam champion returns to action on Wednesday when he goes up against impressive German youngster Alexander Zverev.
Juara Grand Slam 14 kali kembali beraksi pada hari Rabu ketika dia melawan pemain muda Jerman yang mengesankan Alexander Zverev.
Leave a comment