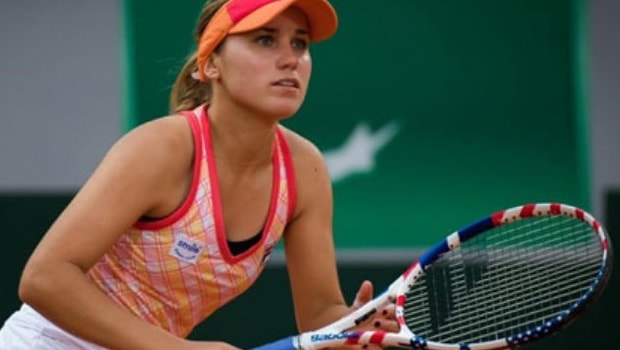 Juara Australia Terbuka, Sofia Kenin, dinobatkan sebagai Pemain Terbaik WTA Tahun Ini, menjadi orang Amerika kedelapan yang merebut gelar tersebut.
Dia mengalahkan petenis nomor satu dunia, Ashleigh Barry di Melbourne di semifinal dan kemudian mengalahkan Garbine Muguruza di final pada bulan Januari untuk merebut grand slam pertamanya. Dia juga berhasil mencapai final Prancis Terbuka di mana dia kalah dari Iga Swiatek. Tahun ini saja, Kenin memenangkan 24 pertandingannya dan kalah 9. Dia menyelesaikan musim sebagai peringkat empat dunia.
Kenin telah menunjukkan janji besar sejak 2019 setelah dia memenangkan tiga gelar pertamanya. Itu juga tahun dimana dia mengalahkan Serena Williams, Naomi Osaka, dan Barty. Ini membuatnya mengakhiri tahun dengan peringkat nomor 14 di peringkat WTA dan juga membuatnya mendapatkan penghargaan WTA Most Improved Player Of The Year.
Kenin mengalami tahun 2020 yang sangat menarik, memenangkan penghargaan dan mengalahkan beberapa pemain top. Meskipun dia berpartisipasi dalam beberapa acara tahun ini, sebagai akibat dari pandemi, dia berhasil tetap berada di atas beberapa yang dia lawan. Dia memperoleh 1000 poin lebih banyak dari pemain lain tahun ini.
Petenis Amerika itu telah memecahkan dua rekor dengan gelar baru ini, dengan menjadi orang termuda yang memiliki peringkat tinggi dalam 10 besar kategori setelah Serena Williams memulai debutnya pada tahun 2002. Dia juga orang termuda yang memenangkan Australia Terbuka, pada usia 22 tahun. , setelah Maria Sharapova memenangkan acara tersebut pada tahun 2008, pada usia 20 tahun.
Iga Swiatek, yang mengalahkan Kenin di putaran final di Roland Garrison memenangkan Penghargaan Pemain Terbaik Tahun Ini WTA. Penerima penghargaan lainnya adalah Victoria Azarenka yang dinobatkan sebagai WTA Comeback Player Of The Year setelah memenangkan Western & Southern Open, gelar pertamanya dalam empat tahun, dan finis sebagai runner up di AS Terbuka sementara Nadia Podoroska adalah nama Newcomer of the Year.
Ditulis oleh Leon Osamor
Leave a comment