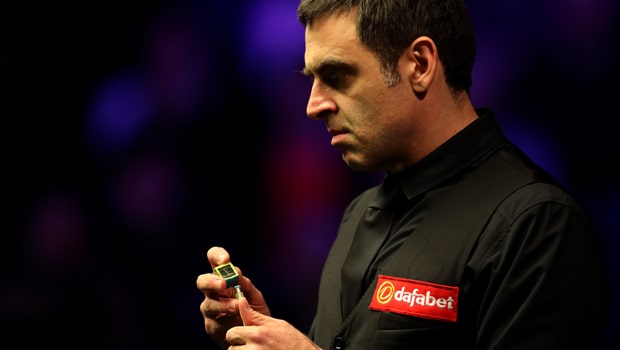 Ronnie O'Sullivan akan mencapai tonggak sejarah ganda jika dia memenangkan Kejuaraan Tur Coral minggu ini di Llandudno.
Kejuaraan Tour perdana berlangsung minggu ini di Wales dan menampilkan delapan pemain, bersaing untuk mendapatkan hadiah pertama sebesar £ 150.000.
Ajang terbatas lapangan adalah satu-satunya turnamen di kalender snooker, selain Kejuaraan Dunia, yang akan diperebutkan secara keseluruhan menggunakan multi-sesi untuk setiap pertandingan.
Untuk O'Sullivan, pemenang Kejuaraan Pemain bulan ini di mana ia membuat break ke 1.000 pada karirnya, ia memiliki kesempatan untuk menjadi pemenang perdana dan untuk menggulingkan Mark Selby sebagai nomor satu dunia.
Selby mencapai puncak daftar selama dua tahun dengan memenangkan Masters Jerman pada Februari 2015 dan bertahan sejak itu tetapi The Rocket dapat menjatuhkan dia dari tempat bertenggernya hari Minggu ini.
Selby bertemu Neil Robertson di babak pertama pada hari Selasa (dua sesi) sementara O'Sullivan menghadapi Stuart Bingham pada hari Selasa dan Rabu.
£ 150.000 yang ditawarkan kepada pemenang akan cukup bagi O'Sullivan untuk menggulingkan Selby, yang kepemimpinannya di puncak daftar peringkat selama dua tahun dapat dikurangi menjadi £ 71.725, bahkan seandainya saja The Jester hanya mencapai final dan mengumpulkan £ 60.000 untuk runner-up.
O'Sullivan belum secara resmi digolongkan sebagai pemain terbaik dunia sejak 2010, meskipun sukses luar biasa selama musim terakhir ini.
Mark Allen berada di peringkat teratas dalam daftar satu tahun ini yang membantu membentuk peringkat untuk Tour Championship, dengan O'Sullivan terbaik berikutnya dan Selby berada di peringkat kelima dari delapan pemain yang bersaing.
The Rocket adalah 1.22 untuk mengatasi Bingham dalam pertandingan pembukaannya, sementara Selby menaungi favoritisme di 1.75 dalam pertandingannya dengan Aussie Robertson.
Leave a comment