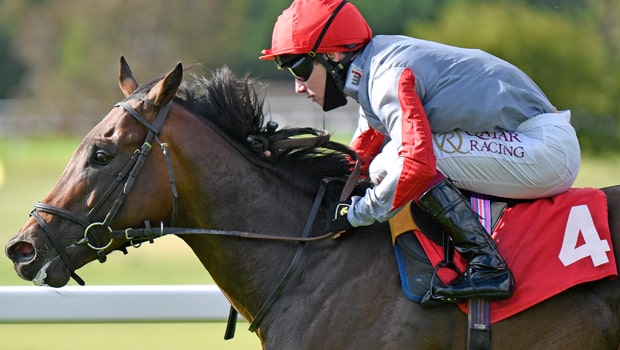 Ubettabelieveit membuat pelatihnya, Nigel Tinkler, dan pembalapnya, Oisin Murphy, bangga pada hari Kamis setelah memenangkan Taruhan Nasional di Sandown. Murphy melakukan pekerjaan dengan baik memimpin kuda yang energik, mengendarainya di depan para pesaing lainnya.
Menghadirkan Dream dan Eye of Heaven ada di depan Ubettabelieveit, sampai penunggangnya memaksanya maju untuk meraih kemenangan. Wings Of A Dove berada di urutan kedua tetapi tidak cukup dekat dengan pemenang, sementara Mcmanaman berada di posisi ketiga. Eye of Heaven, dikendarai oleh Frankie Dettori turun ke posisi keenam, posisi terakhir.
Berbicara setelah perlombaan, pelatih Tinkler menyatakan kegembiraannya karena kudanya datang lebih dulu dan memenangkan hadiah Terdaftar. Dia berkata, "Dia mungkin bepergian dengan sangat baik. Dia tiba di sana sedikit terlalu cepat, tetapi saya sangat senang. Sangat menyenangkan mendapatkan pemenang Terdaftar di Sandown. Waktu penampangnya untuk balapan terakhirnya cukup cepat.
"Dua furlong terakhir itu cukup bagus. Saya pikir dia akan mendapatkan nilai handicap yang adil, jadi kami harus datang, tapi itu mungkin bukan pertaruhan nasional terbaik yang pernah kami miliki. Ia dibiarkan sedikit melebar, yang tidak untuk keuntungan kita. Segalanya tidak berjalan sesuai rencana, tapi kita lebih dari senang dengan hasilnya."
Tinkler juga mengatakan bahwa ia berencana untuk meletakkan kuda di Pasak Roses, yang merupakan kontes Terdaftar lain, bulan depan, dan akan melihat apa yang Murphy pikirkan tentang gagasan itu. Murphy juga menyatakan kegembiraannya untuk menang, juga menyatakan bahwa balapan tidak berjalan sesuai rencana. Ini akan menjadi kemenangan kedua sang kuda, setelah memenangkan balapan terakhir di Doncaster dan start ketiga.
Eye of Heaven, favorit, gagal memenuhi harapan. Ada harapan bahwa dia akan menebus kegagalannya di turnamen Royal Ascot tetapi tidak tercapai.
Leave a comment