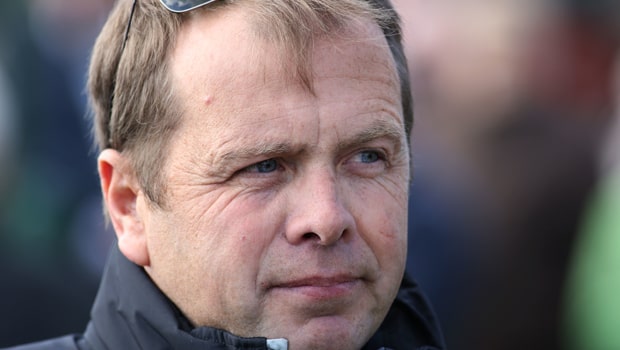 Ger Lyons telah mengidentifikasi Middle Park Stakes di Newmarket bulan depan sebagai kemungkinan tujuan Siskin yang tidak terkalahkan.
Colt milik Khalid Abdullah yang mengesankan memberi Lyons keberhasilan pertamanya di Grup Satu di Irlandia ketika ia mendaratkan Keeneland Phoenix Stakes di Curragh, Jumat.
Tunggangan Colin Keane mengabaikan tantangan Monarch Of Egypt yang dilatih Aidan O'Brien pada tahap penutupan untuk melindungi rekor tak terkalahkannya.
Trainer Lyons sekarang mengincar beberapa kontes terkemuka dua musim akhir di Inggris atas tuduhannya. "Dia akan berada di semua balapan yang relevan.
Jelas Middle Park disponsori oleh pemiliknya dan dia berada di Vincent O'Brien [Pasak Nasional] di sini pada saat yang sama. Lalu ada Dewhurst, jadi saya tidak berpikir lebih dari itu saat ini, "kata Lyons.
"Pada saat ini, kamu harus berpikir bahwa Middle Park akan menjadi balapan berikutnya, tetapi kita akan membahasnya di minggu depan."
Siskin menentang syarat untuk menang di Curragh, karena Lyons mengakui dia memegang beberapa kekhawatiran atas jumlah hujan yang turun sebelum balapan.
"Hujan adalah masalah besar. Kami tahu keahliannya adalah pergantian kecepatan, tetapi pada dasarnya the soft menyamakan permainan lapangan," katanya kepada Racing TV.
"Itu sama untuk mereka semua, Raja Mesir mungkin ingin tanah yang lebih baik juga dan saya tahu mereka berpikir banyak tentang dia, tetapi kami mengalahkannya di tanah yang lebih baik."
Saya khawatir ketika Colin (Keane) menekan tombol 'go' 'Tombol dia akan sedikit terjebak di lumpur, tapi untungnya kuda itu menariknya keluar. "Dengan kesuksesan terbarunya Siskin telah mendapatkan penawaran 9,00 untuk 2.000 Guineas musim depan di Newmarket.
Leave a comment