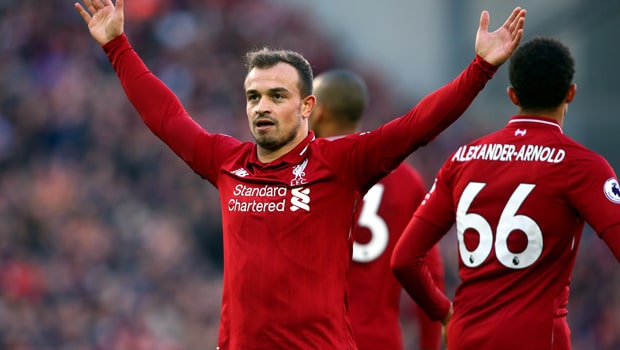 Xerdan Shaqiri mengatakan bahwa dia sudah beradaptasi dengan gaya permainan Liverpool dan berharap mendapatkan lebih banyak kesempatan dari manajer Jurgen Klopp dalam sisa musim ini.
Pemain internasional Swiss tersebut pindah ke Anfield dari Stoke City dengan banderol 13,5 juta Poundsterling setelah the Potters terdegradasi ke divisi Championship, tetapi dia mengalami kesulitan untuk memberikan dampak secara langsung pada the Reds.
Shaqiri, pemain yang memenangkan enam gelar semasa membela Bayern Munich dari tahun 2012 – 2015, harus menunggu sampai bulan September untuk melakukan debut Liga Primer Inggris dengan Liverpool dan hanya bermain selama 73 menit secara total pada liga Champions sejauh ini.
Bagaimanapun juga, pemain berusia 27 tahun tersebut telah bermain sebagai pemain pengganti dengan lebih sering dibandingkan bulan bulan sebelumnya, dan telah mencetak gol pertama nya pada kemenangan 4 – 1 melawan Cardiff city di akhir Oktober.
Berbicara tentang kehidupan di Merseyside, pemain dengan posisi penyerang tersebut yakin dia telah mendapatkan cukup waktu untuk beradaptasi dengan gaya permainan Klopp dan akan menunjukkan apa yang dia mampu. "Saya piker saat ini saya sudah beradaptasi dan menunjukkan kemampuan terbaik saya," lanjut Shaqiri.
"Selalu penting untuk bermain dengan baik saat anda bergabung dengan klub baru, juga untuk memenangkan pertandingan, dan jelas bahwa kami sedang melakukan hal tersebut.
"Butuh waktu bagi saya untuk memahami apa yang diinginkan oleh pelatih dan juga teman satu tim saya untuk memahami saya. Saya memiliki lebih banyak waktu bermain sekarang dan saya merasa lebih baik.
Senang sekali bisa kembali bermain di Liga Champions, inilah yang saya inginkan selama ini."
Liverpool akan kembali beraksi pada hari Selasa dengan bertandang ke kandang Red Star Belgrade untuk pertandingan Liga Champions dan sang tamu diunggulkan untuk memenangkan pertandingan dengan odds 1,20, hasil seri dihargai pada odds 7,00 sementara kemenangan tuan rumah dihargai dengan odds 15,00.
Leave a comment