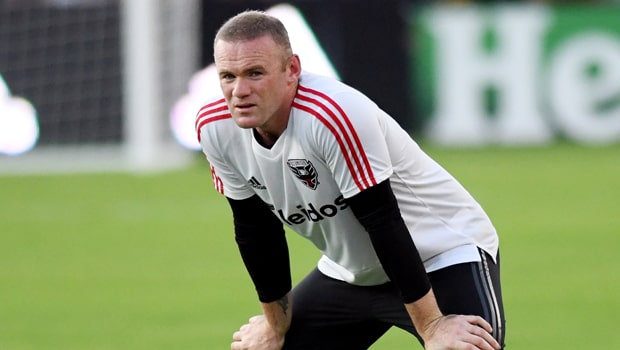 Wayne rooney percaya bahwa ole gunnar solskjaer membutuhkan paling kurang 2 tahun membawa Manchester united sejajar dengan Manchester city dan Liverpool.
Ronney menempatkan ke 2 klub tersebut bebas dari kejaran klub lainnya dan rooney ingin klubnya untuk mengambil langka rencana jangka panjang agar bisa memperdekat jarak.
Mantan pemain depan setan merah merasa united harus mencoba dan membangun sebuah skuad yang dapat bersaing dengan Etihad dan Anfield, dari pada mencari solusi cepat dengan membeli pemain bernama besar mendekati musim panas ini.
me-rekrut lionel Messi, Cristiano Ronaldo, Gareth bale atau Sergio Ramos tidak akan memperbaiki masalah jangka panjang di Manchester United, Ronney percaya.
"Hal pertama yang harus di lakukan ole adalah membangun skuat dan saya pikir membawa 1 atau 2 pemain harga 100 juta pounds tidak akan menolong pemain yang sudah ada di sana, "kata Rooney di Radio BBC.
"Dia lebih baik menggunakan 30-40 juta pounds pada pemain dengan potensi dan membangun skuat di sekitar 5-6 pemain.
"Anda bisa saja membawa pemain pemain seperti Ronaldo, Ramos, Messi atau bale tapi itu akan menghabiskan anda 350 juta pounds dan anda akan mendapatkan 2 tahun dari mereka dan uang tersebut hilang."
United and England's all-time top goalscorer has urged a sense of patience when it comes to rebuilding a squad that laboured to sixth place in the Premier League last term, a massive 32 points behind champions Man City. Top skor inggris dan united menginginkan kesabaran untuk membangun sebuah skuat yang musim lalu di peringkat 6 liga inggris, 32 poin jauh di belakang juara Man City.
klub perlu pembangunan ulang dengan pemain pemain muda namun mereka harus cukup bagus dan saya rasa para pendukung akan mengerti bahwa mereka mungkin tidak akan berkompetisi untuk liga inggris musim depan.
"Biarkan ole mendapat waktu membangun sebuah team untuk 2-3 tahun ke depan yang akan berkompetisi di liga inggris dan level liga champion."
Manchester United di poin 23.00 untuk memenangi liga musim depan dan poin 1.91 untuk dapat selesai di 4 besar.
Leave a comment